This article explains how to see your different Amazon accounts (for different markets) in one Helium 10 Adtomic dashboard, using Adtomic's drop-down market selection menu.
Why don't all my markets show up automatically in Adtomic?
While Amazon's MWS tokens are tied to specific regions and to specific accounts, their PPC token is not. Currently, there is only one PPC token per account, and Amazon doesn't integrate separate regions' or secondary accounts' advertising APIs. Therefore, sellers selling in more than one region or with more than one account need to find a way to patch together the multiple accounts so they can view them together inside the Adtomic platform of their single Helium 10 account.
The primary challenge stems from Amazon's user rules, which do not allow the same primary user email address to access PPC for more than one account. Therefore, the only way this workaround can be used is if the email login you are using for your main Amazon account is not the same as the email login used for additional Amazon account(s) that you are trying to view in Adtomic. Fortunately, Amazon allows you to add secondary or sub-email account access to your PPC inside Seller Central, and that loophole allows you to create a workaround to fix the issue.
How Do I Set Up My Accounts to Fix the Issue?
The solution is to create a unique 'master PPC' user email account that has access to all of your Amazon Seller Central accounts' PPC. Helium 10 recommends that this special email be different from the primary email accounts for your Amazon accounts. Below are the instructions to grant Campaign Management access to the new master PPC email account you'll use to see the entirety of your PPC data in Adtomic.
You will only have to do this series of actions one time.
In Seller Central
1. Create the master PPC email account you will use to set up the PPC connections between Amazon Seller accounts so they can be imported into Helium 10 Adtomic. Next, grant that email address access to the PPC data in your separate Amazon accounts.
2. Inside each of your Seller Central accounts, go to Settings, User Permissions, and invite the new master PPC user.

3. In the User Permissions window, fill out the fields for the Add a New User section and then select Invite.

4. The invitation will go to the new master PPC email account with instructions to accept access.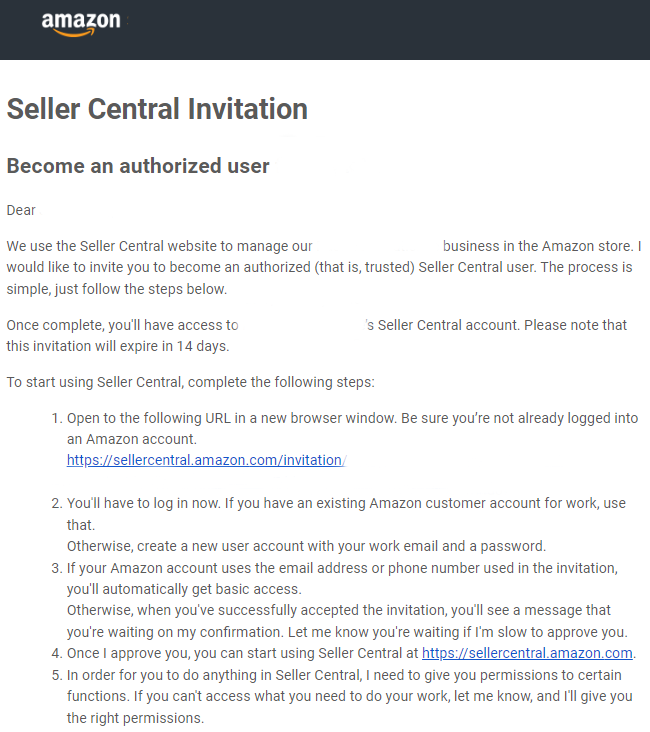 5. When the new master PPC user clicks on the link, it will take them to Amazon's Seller Central Sign-In page. They need to sign in with the assigned email.
6. After the invitation is accepted, log back into the Amazon account where you added the new master PPC user and give them View/Edit permissions for Campaign Management. Click on the Manage Permissions button next to the user's name and email.

7. Scroll down the Manage Permissions page to the Advertising section. Click the button next to Campaign Manager under View and Edit. The button will turn blue to show it's activated.
If you sell in multiple regions and marketplaces, you will need to do this step several times. Repeat this process for each Amazon account you want to appear on your single Adtomic dashboard.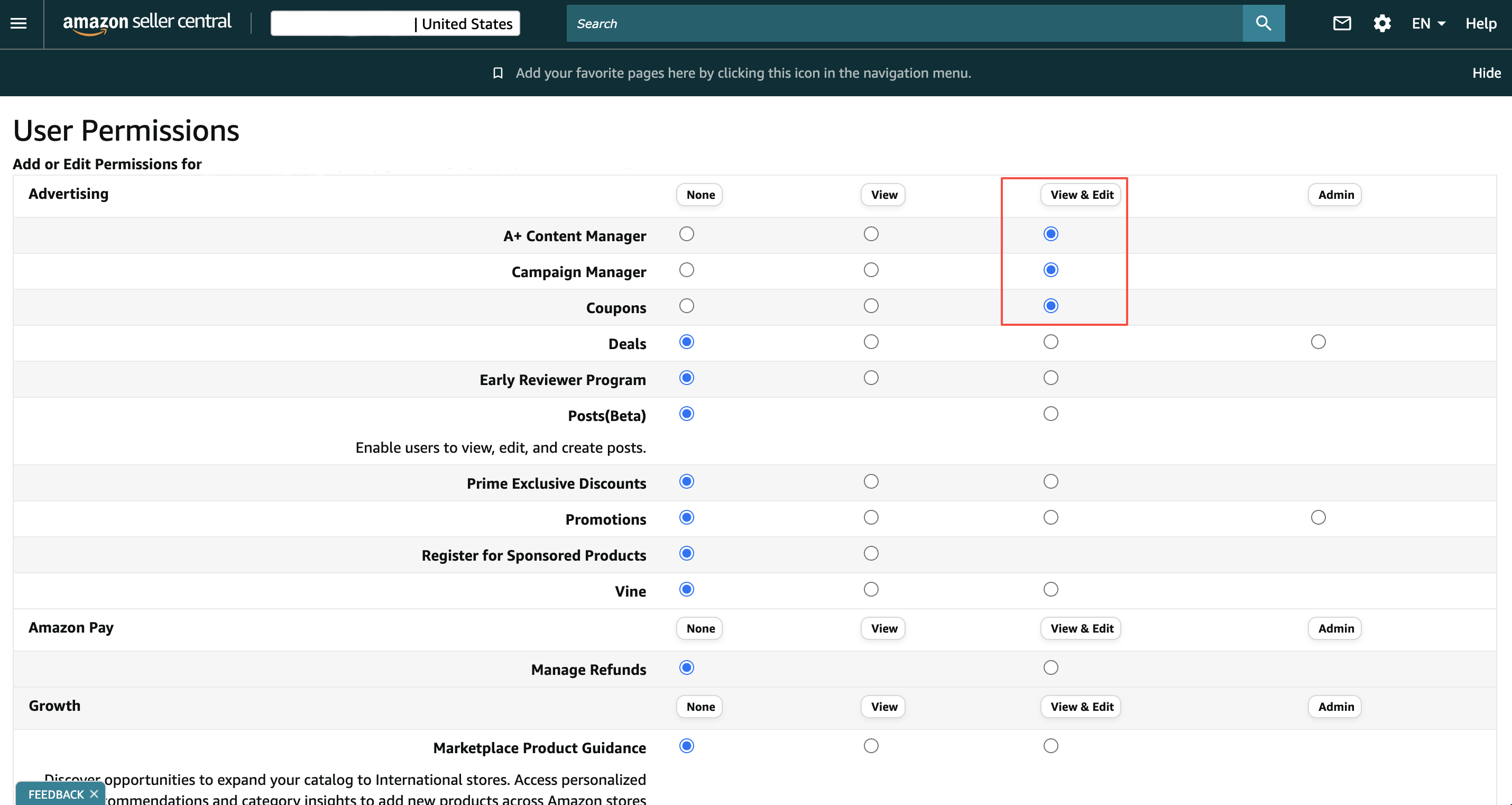 8. Sign out of Seller Central and then sign back in using your new master PPC email account. Stay signed in for the next step.
In Helium 10
9. Sign in to Helium 10 with your master PPC email account access. Make sure the new master PPC email is either your primary email for Helium 10 (you may want to make it your primary email account access to Helium 10) or that you have added it as a sub-user with access to Adtomic inside your Helium 10 account.
If your PPC token was previously connected before you gave your master PPC email account access to all your Seller Central accounts, you'll need to disconnect the Helium 10 PPC token and then reconnect it again to allow all the account data to import into Adtomic. For help on how to do this, read Part II in this article: How Do I Connect My Helium 10 Account to My Professional Amazon Seller Account?
10. In Seller Central, once you have completed the steps above, you should see a window open asking you to allow Helium 10 to access the advertising data for the accounts. Click the gold Allow button.
Back inside Helium 10's Adtomic dashboard, you will get a message letting you know that the data is being imported.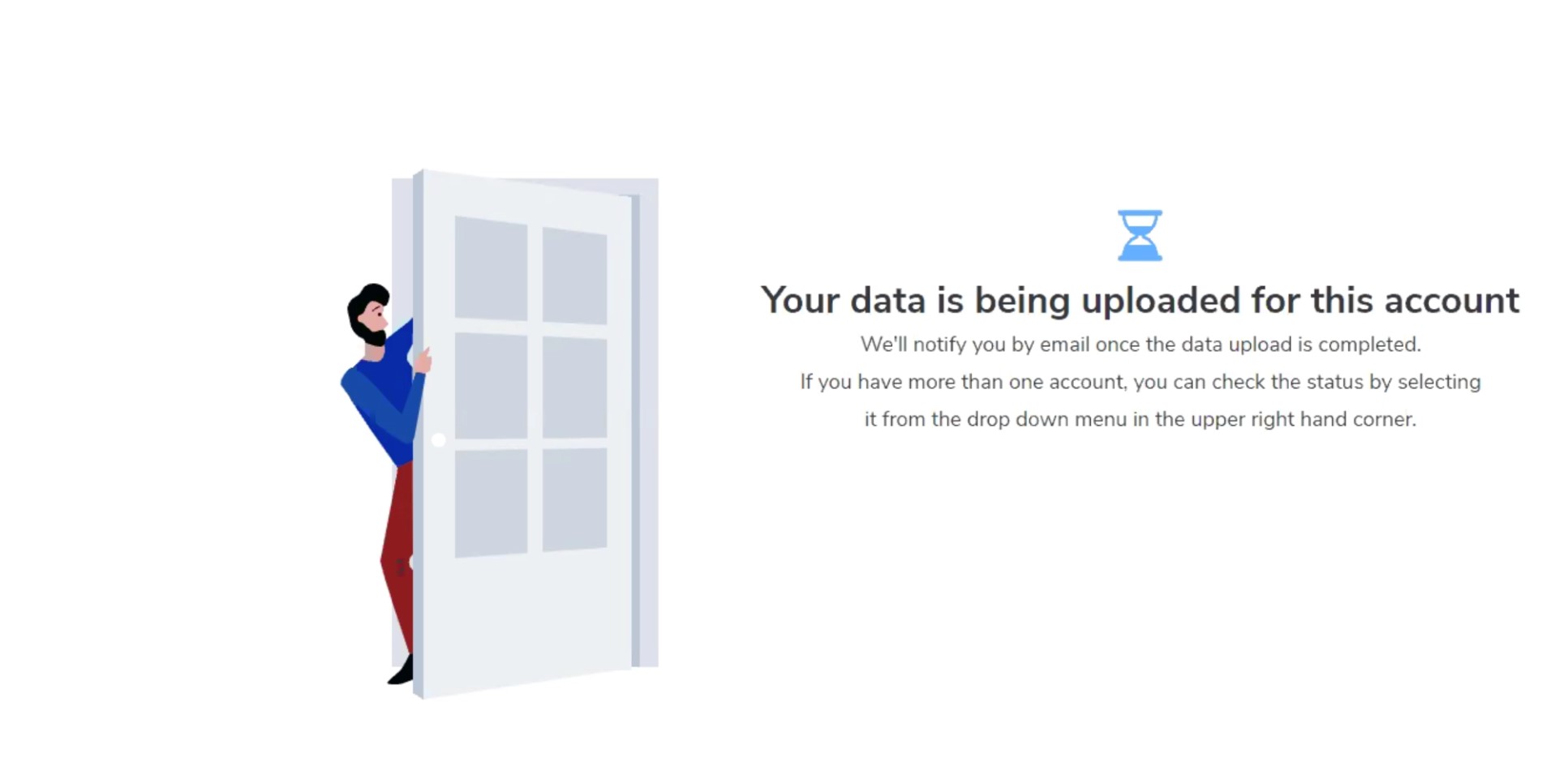 Ultimately, the goal is to have connected your PPC data on all your Amazon accounts to Adtomic on your Helium 10 account, using your new (or expanded) master PPC email account, so that Helium 10 has permission to pull all the data from Amazon into your Helium 10 Adtomic dashboard.
The next time you log back into Helium 10 and open the Adtomic dashboard, you should see the drop-down menu in the top-right corner of Adtomic that allows you to select individual accounts to view their data.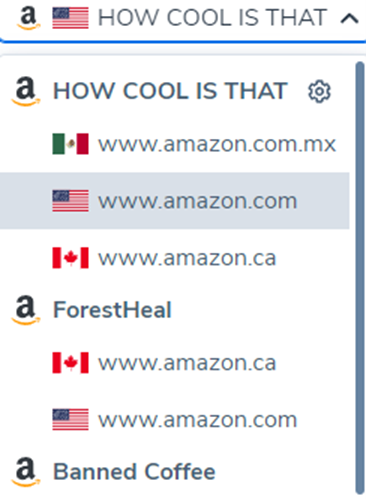 Once the steps have been completed, Helium 10 will be able to access and populate the past 60 days of PPC data for each region into one Adtomic account. It may take several hours for the new data to populate.
How to Remove a User's Access
If you need to revoke access to an account, you will need to follow the following steps:
1. Log in to the original Amazon Seller Central account.
2. Go to Settings, then User Permissions.

3. Select Delete next to the account you want to remove.