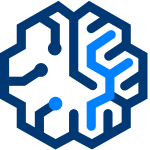 Cerebro is Helium 10's Premier Keyword Research Tool.
Why are keywords so important?
A product listing that ranks higher for keywords has a much better chance of appearing in search results. That drives traffic to your listing and greatly increases your sales opportunities.
This introduction will offer you a broad overview of what Cerebro is all about and how to get started.
In order to give you an idea how to use the many different windows and filters, start by conducting a keyword search.
When you open Cerebro, the first thing you'll see is a field where you can enter either a single ASIN (Amazon Standard Identification Numbers), or multiple ASINs.

You can find the product's ASIN in two different ways. Either by scrolling down to the "Product Information" section of the listing:

Or, by double clicking it in the URL (every listing's URL will contain its product ASIN - look for the short string of numbers and capital letters)


Next, paste the product's ASIN in the search bar at the top and click Get Keywords.

Once you add the ASIN, these are the results: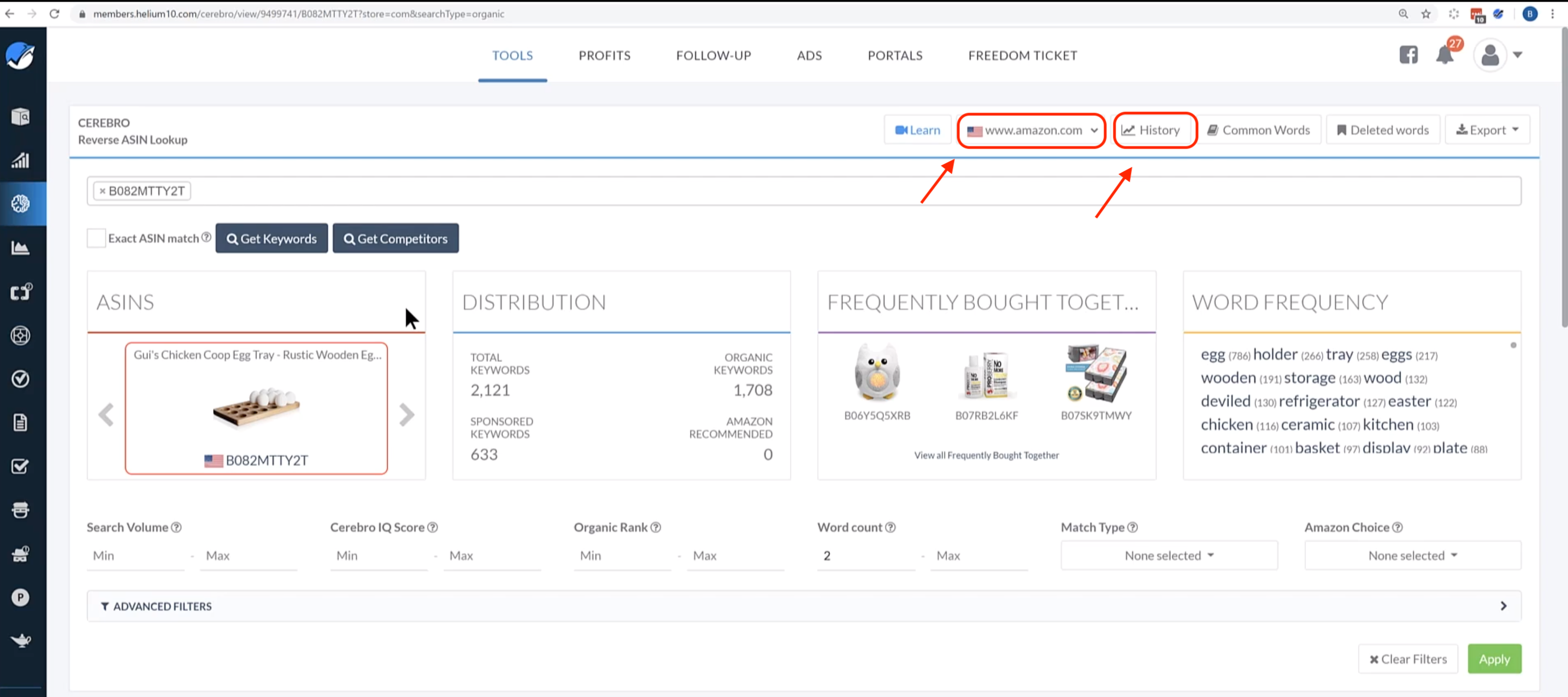 The first thing to look at are all the different marketplaces where you can use Helium 10 to help you sell on Amazon. By clicking on the Amazon (USA) window, you'll also be able to select Amazon Spain, France, Italy, Great Britain, Germany, Mexico, Canada, the Netherlands and India.
The second arrow points to the search History window.
In the History window, you can look back at everything you've searched for in Cerebro, all the way back to the very beginning of your Helium 10 membership.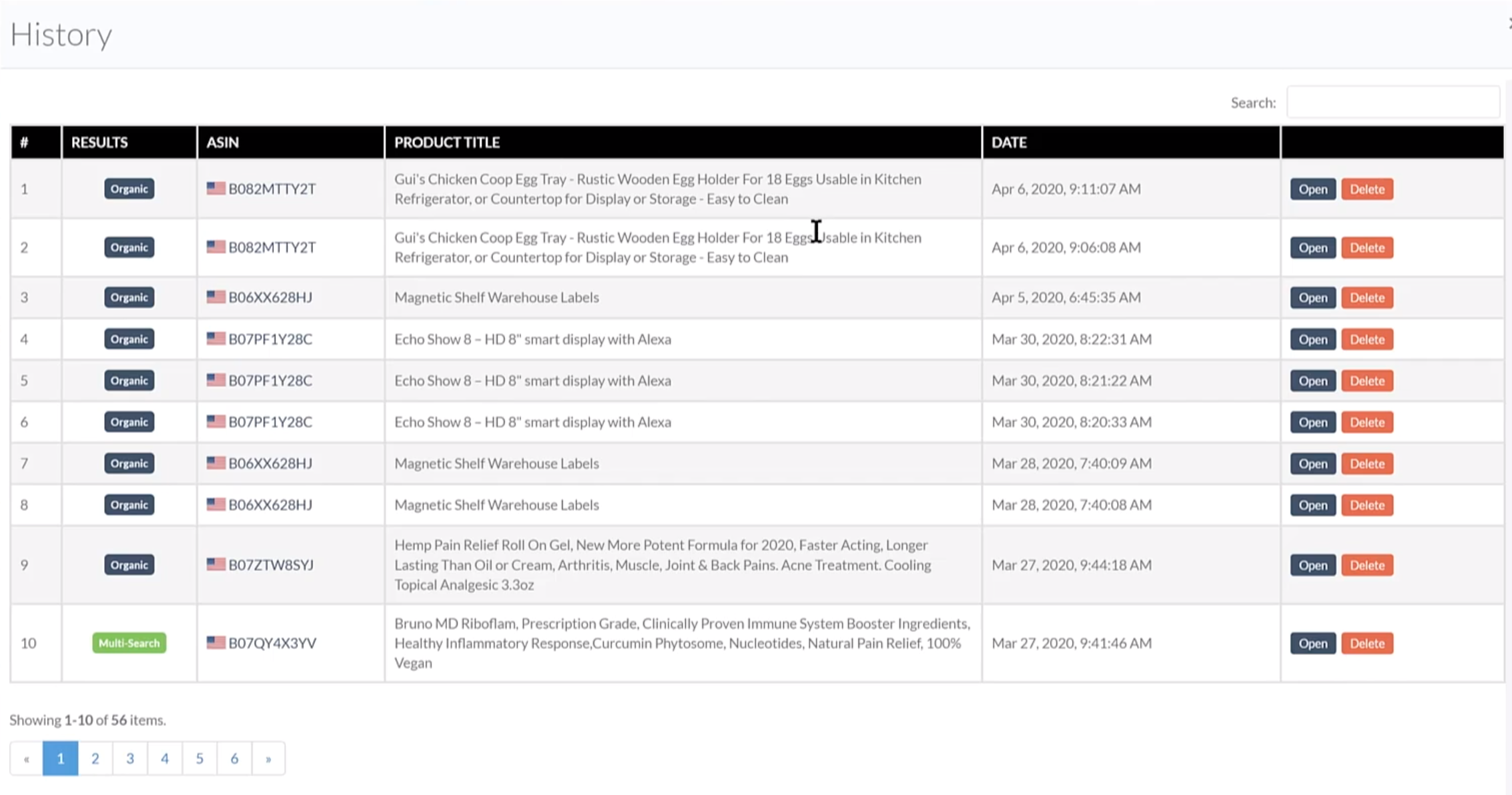 Now, take a look at the main screen again.
The first search results box shows the product title, image, and ASIN of the product that was searched for. If we had pasted multiple ASINs, we would be able to toggle through them below.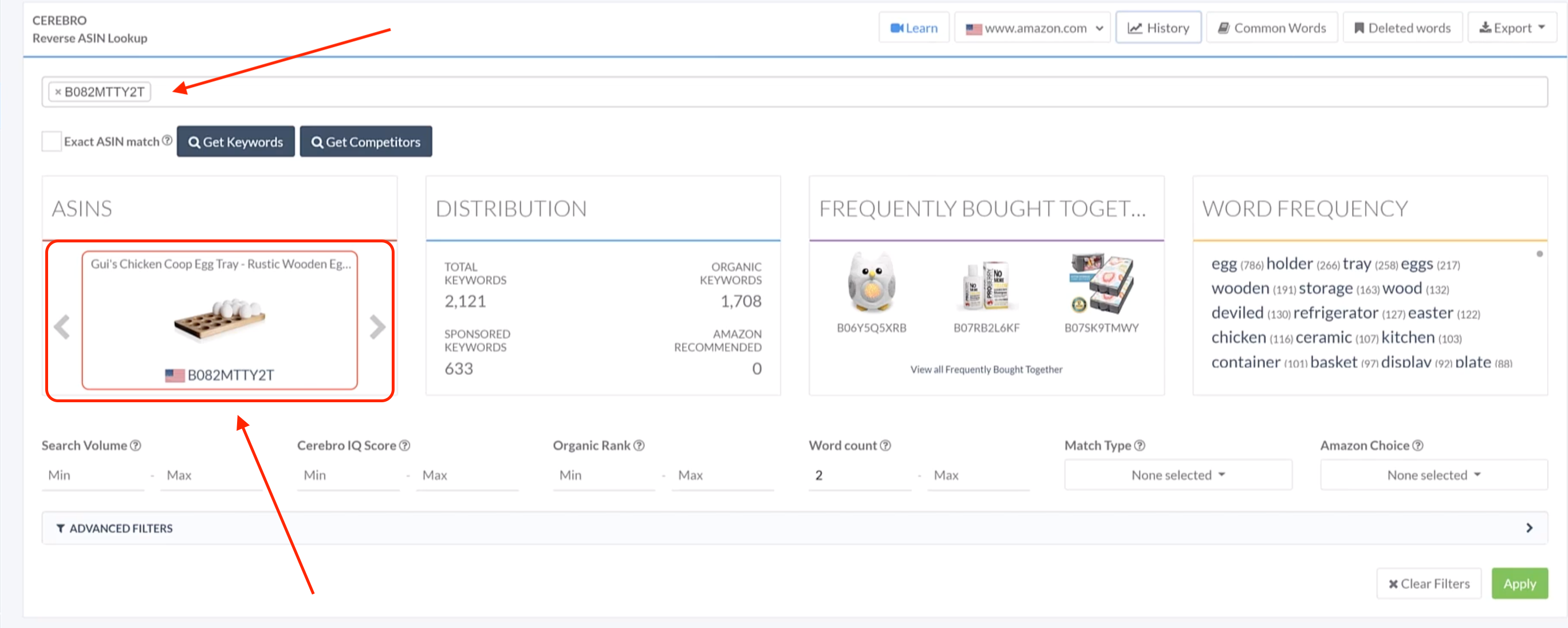 To the right, you can see the Distribution of keywords and the Frequently Bought Together windows.
The Distribution of keywords shows the different ways that the keywords are categorized in Cerebro (and on Amazon).
Keywords are categorized by:
Total keywords

Sponsored keywords

Organic keywords

Amazon recommended
The Frequently Bought Together box shows the products that are most frequently purchased at the same time as the targeted ASIN.
Because they're "bought together," this can give a seller an idea of products that they might want to either "bundle" together or consider selling at some point in the future.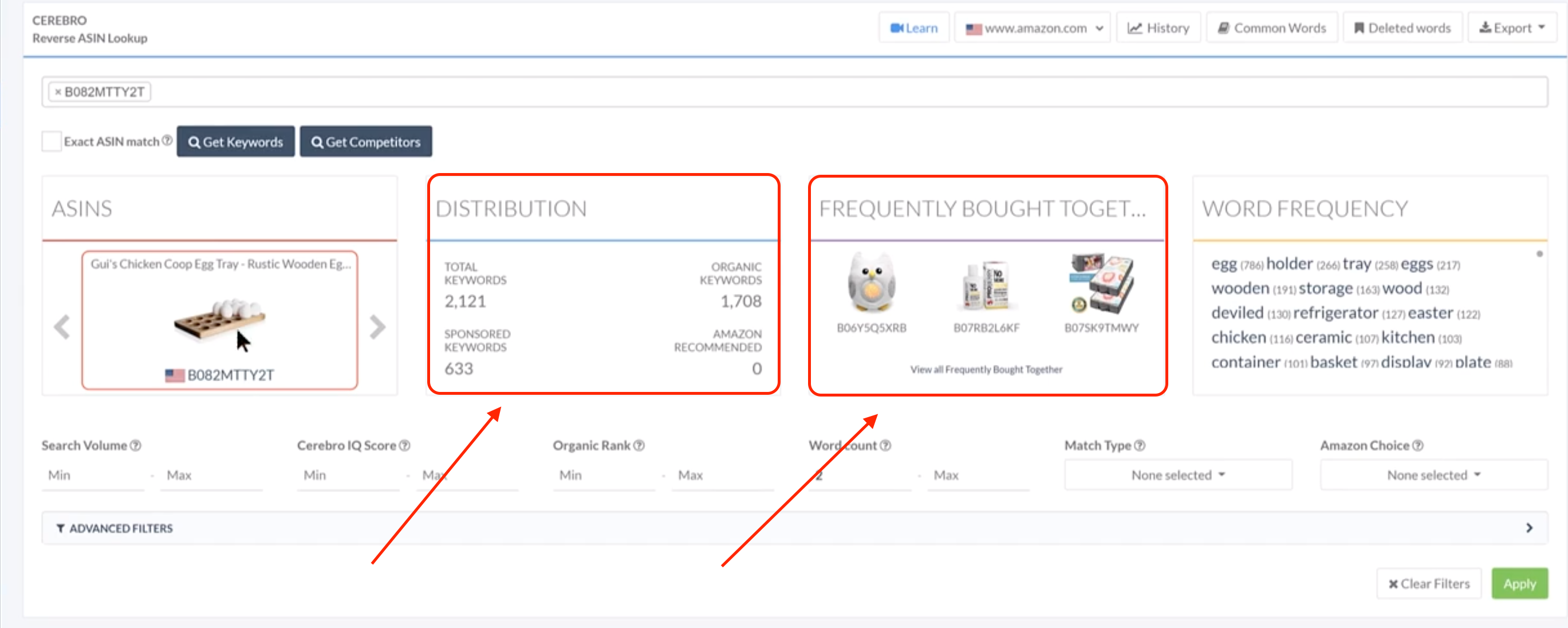 On the far right is the Word Frequency window. This shows the breakdown of the 2121 total keywords phrases associated with our ASIN in this specific search. For example, "egg" appeared 786 times, and "holder," 266 times.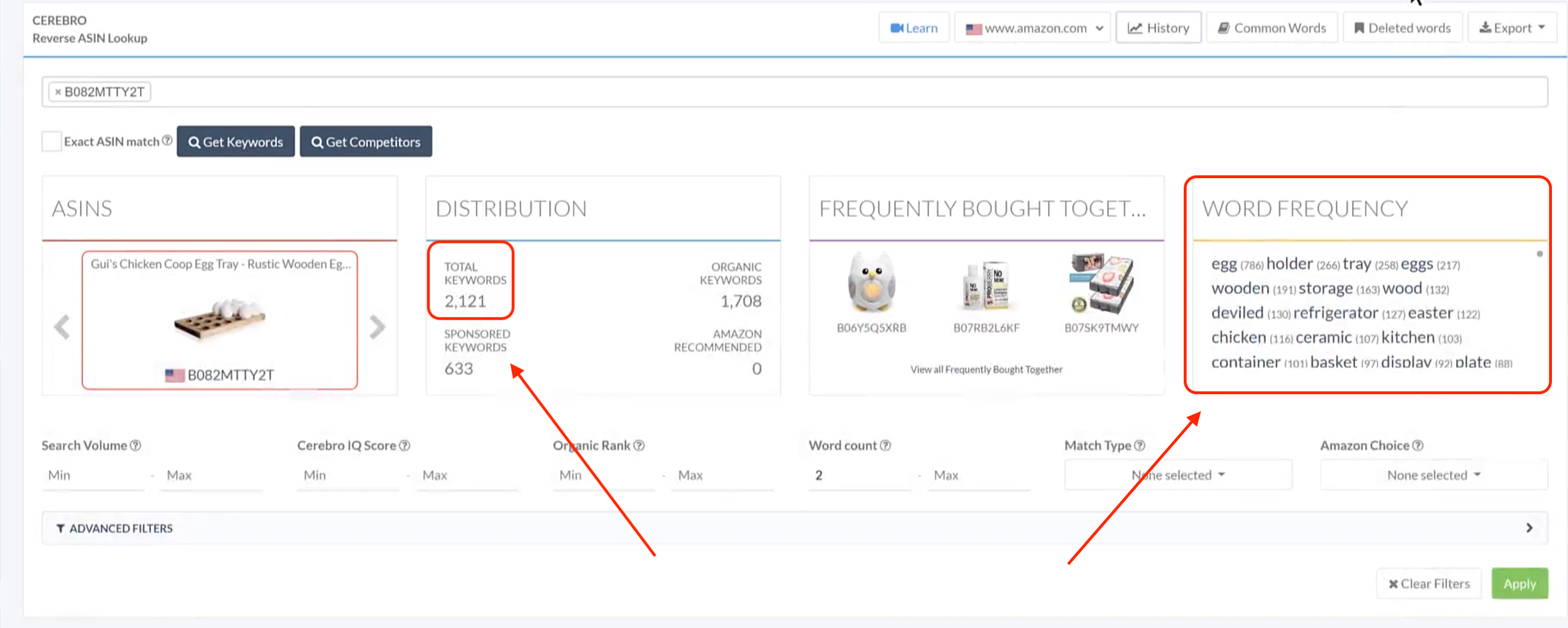 In the next screenshot, you can see the many filters within Cerebro that will help you to narrow your search.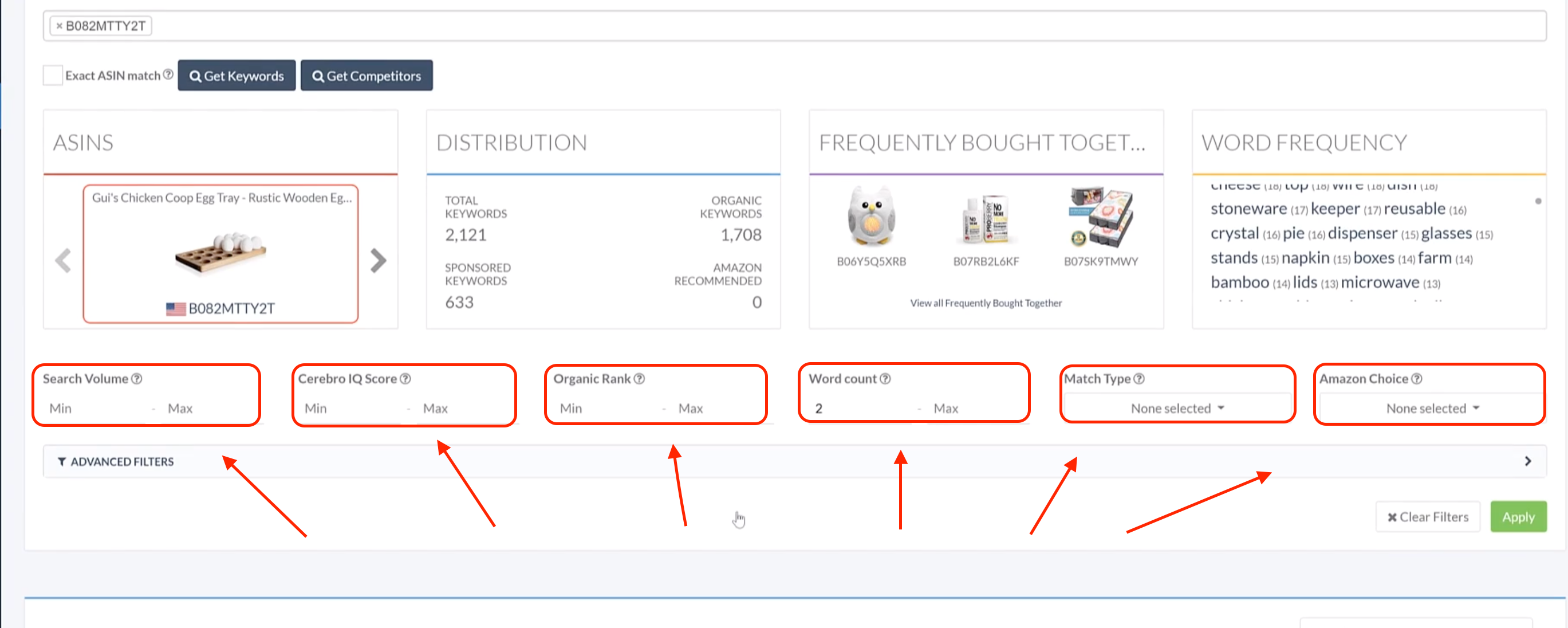 With Cerebro, you can filter for:
Search Volume

This will allow you to fine-tune your search for a specific level of buyer interest.

Cerebro IQ Score

This represents the ratio between competing products and search volume.

Organic Rank

The last time that Helium 10 checked, the position that the ASIN had on Amazon.

Word Count

Want to search for only two-word keywords? You can filter for that here.

Match Type

It's either, Organic, Sponsored or Amazon recommended. (Sponsored products and rankings, indicate paid,

cost-per-click (CPC) ads that promote individual product listings on Amazon)

Amazon Choice

Is it an

Analyzed product, or Amazon's Choice Badge?
As an example, let's say you wanted to filter for a minimum of 100 searches a month, an organic rank of one, and select an Organic Match type.
All you'd have to do is add the values in the boxes like this:

After we press Apply, here's what shows up on the top of our search results. As you can see, "Egg Holder Wood," is number one for Organic Rank. But, in this view, you can also see that "Wooden Egg Holder" is in the first position for Sponsored Rank as well.

If you look on the Amazon product page, the first product that shows up is Gui's Egg Tray in the Sponsored category.
Gui's Egg Tray is also in the first Organic Ranked position. (Second position overall)

With the advanced filters, you can filter for:
Amazon Recommended Rank
Sponsored Rank
Competing Products
Show Phrases that Contain
Exclude Phrases that Contain

For example, if you wanted to filter for all the keywords that contained "word," you could do that.

This shows that 133 separate keyword phrases contain "word." It might seem like a simple thing, but the ability to drill down with Cerebro's filters will give you a clearer picture of what the buyer is looking for. That in turn, will help you to sell more effectively.
It will also help you to budget your Amazon Advertising expenses as well. (You'll can learn more about that in the ADS PRO Training video)