Not every sale results in a customer ordering, receiving and keeping a product. Returns and lost inventory are part of the retail business. In particular, Amazon makes returns as easy as possible for its FBA customers, which means, if you are selling through Amazon's platform, Amazon makes returns of your private label products as easy as possible. Sometimes, products are returned damaged. Sometimes, products are not properly returned, and become lost.
In addition, products stored in Amazon warehouses can get damaged or lost before they even get sold or sent to a customer. In theory, Amazon refunds all lost or damaged products, but Amazon also manages millions of transactions, and sometimes, it's the refunds themselves that can get lost.
Tracking your refunds can be an overwhelming challenge as a private seller. Fortunately, Helium 10 created Refund Genie to do the deep data research on your behalf, helping you identify the refunds Amazon may owe you. This tutorial explains how to access reports listing the refunds you may be owed by using the Refund Genie tool.
1. To open Refund Genie, click on the gold genie bottle icon near the bottom of the left tool menu on the main Helium 10 Tool dashboard. Initially, the Refund Genie dashboard columns will not have any data. It takes about a day after you authorize your account for Helium 10 to gather your data.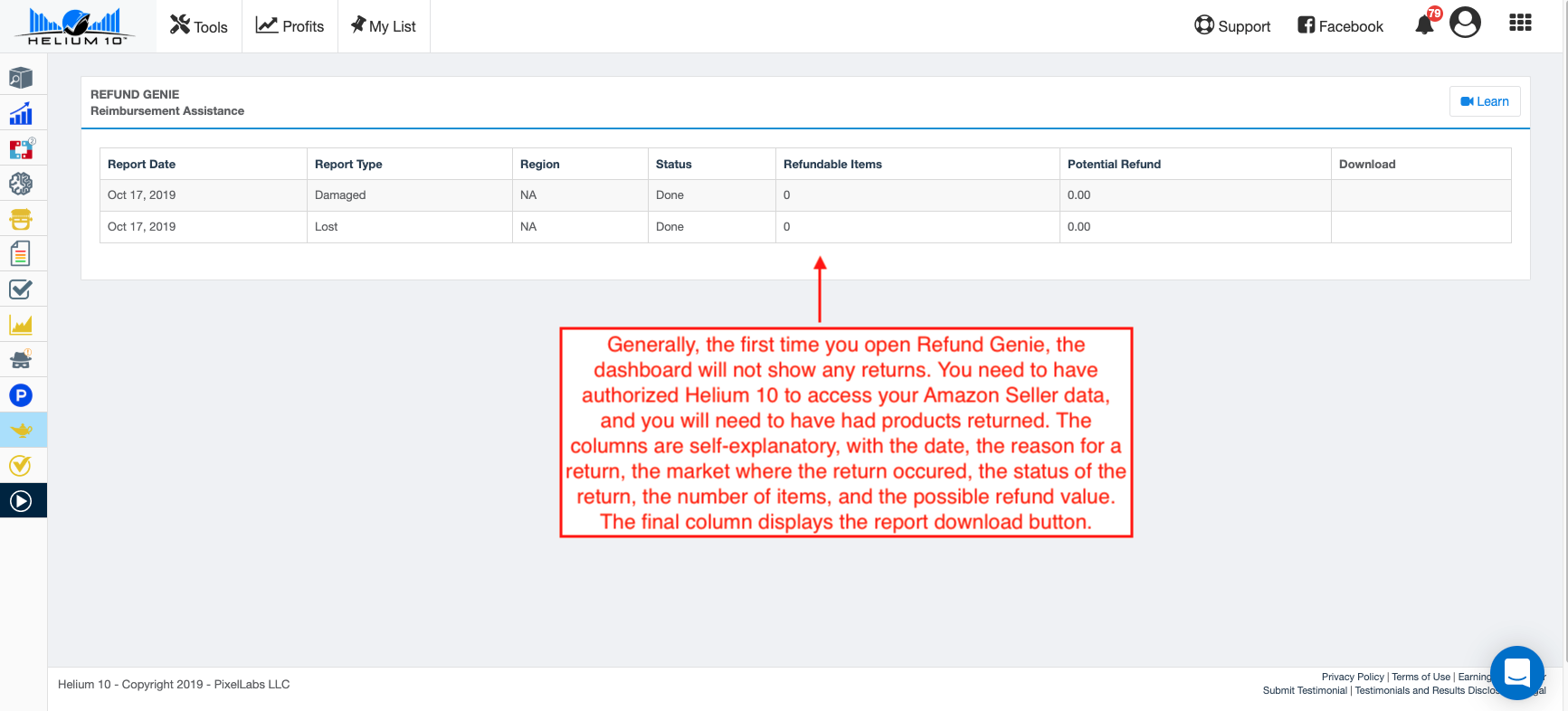 2. Eventually, Helium 10 will begin to populate the fields with your gathered data by SKU and the date the product(s) was tagged as either lost or damaged. To see the details of Lost or Damaged products, click on the accompanying green download button. Refund Genie will download the specific reports to your computer.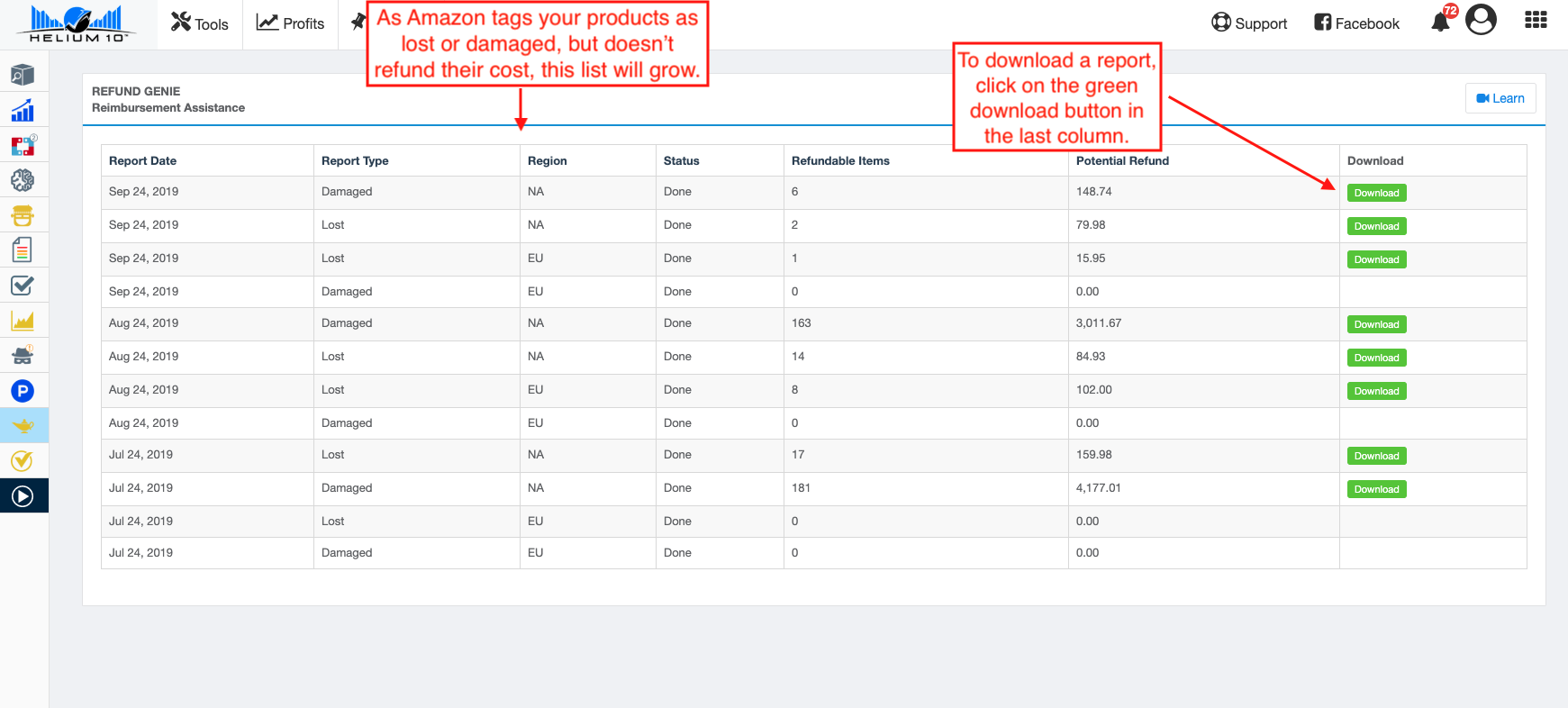 3. After the download is successful, a notification window alerts you that the action is complete. Close the window by clicking on the blue OK button. The zipped file is downloaded, and it appears in the bottom toolbar of your browser window.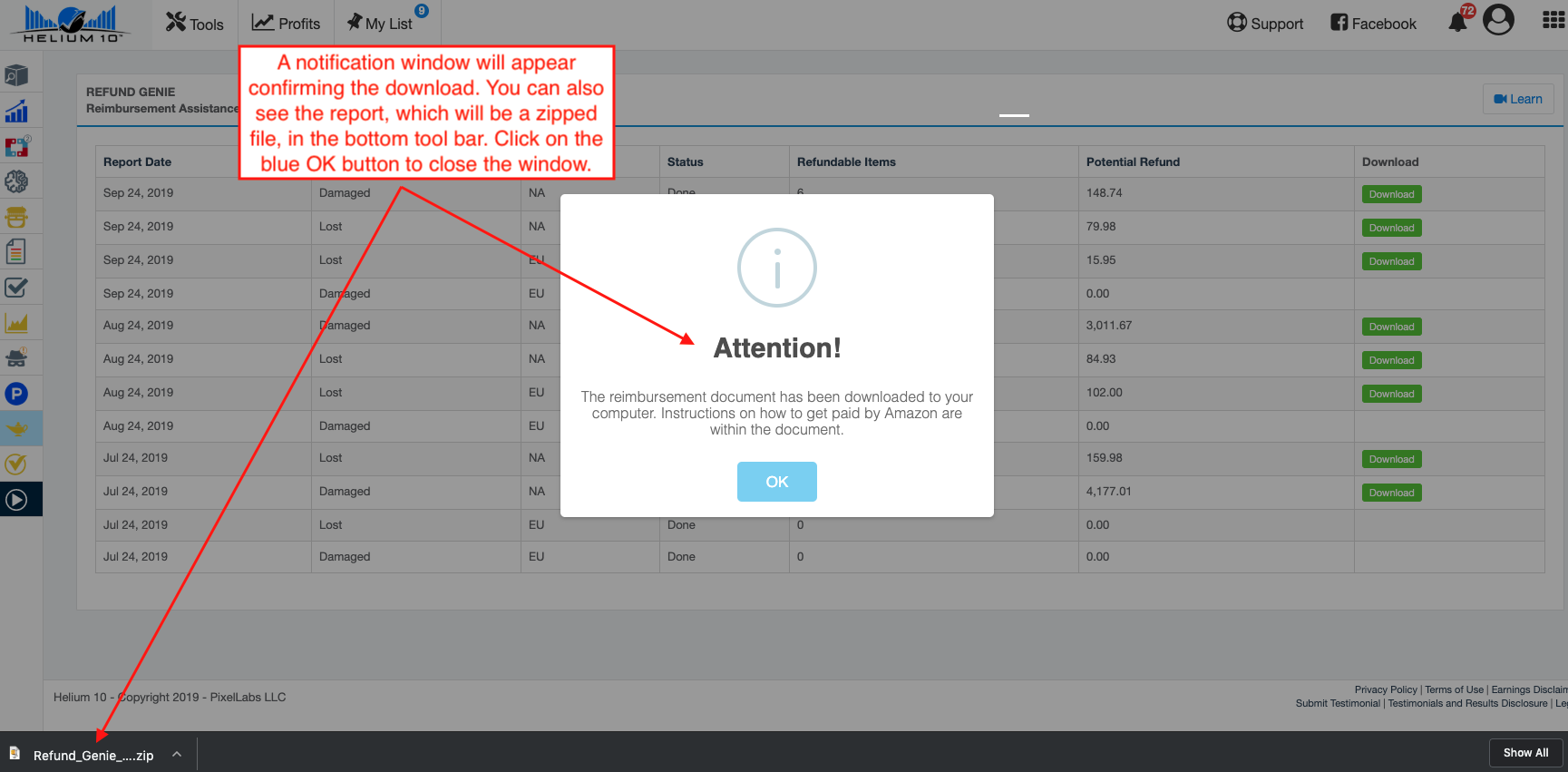 4. Open the folder from the toolbar of from where your computer downloads files (usually the download folder), and relocate it to the folder where you store your refund data. To open the file, use a program like WinZip or the utility program that comes with your operating system. Generally, if you right-click on the zipped file, the options appear to open it with a specific program. Unzip the file.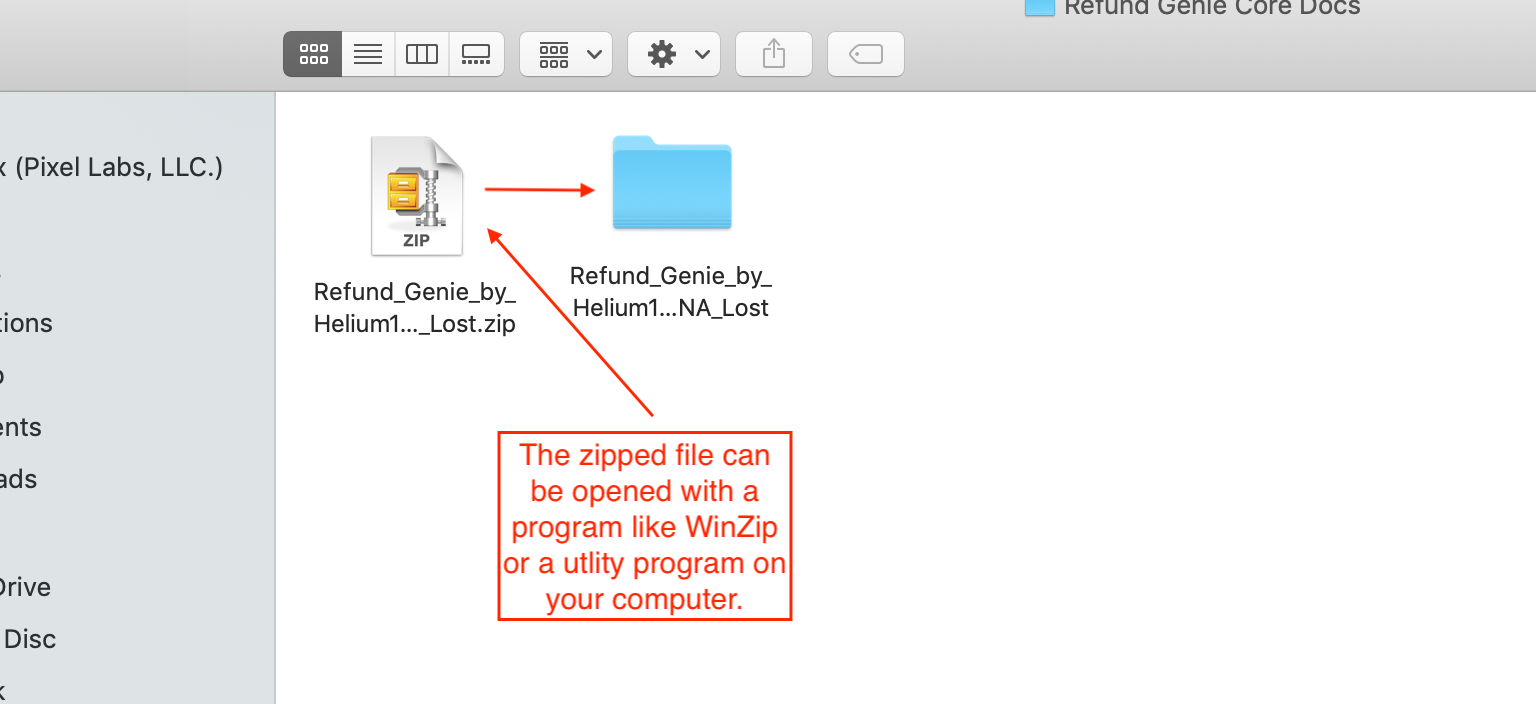 5. Two items will appear. The first is a text (or txt) file with important instructions about how to request a refund from Amazon. It's essential that you do not send a request for a large number of refunds at one time. Helium 10 recommends that you do not send Amazon refund requests for more than five (5) SKUs at a time.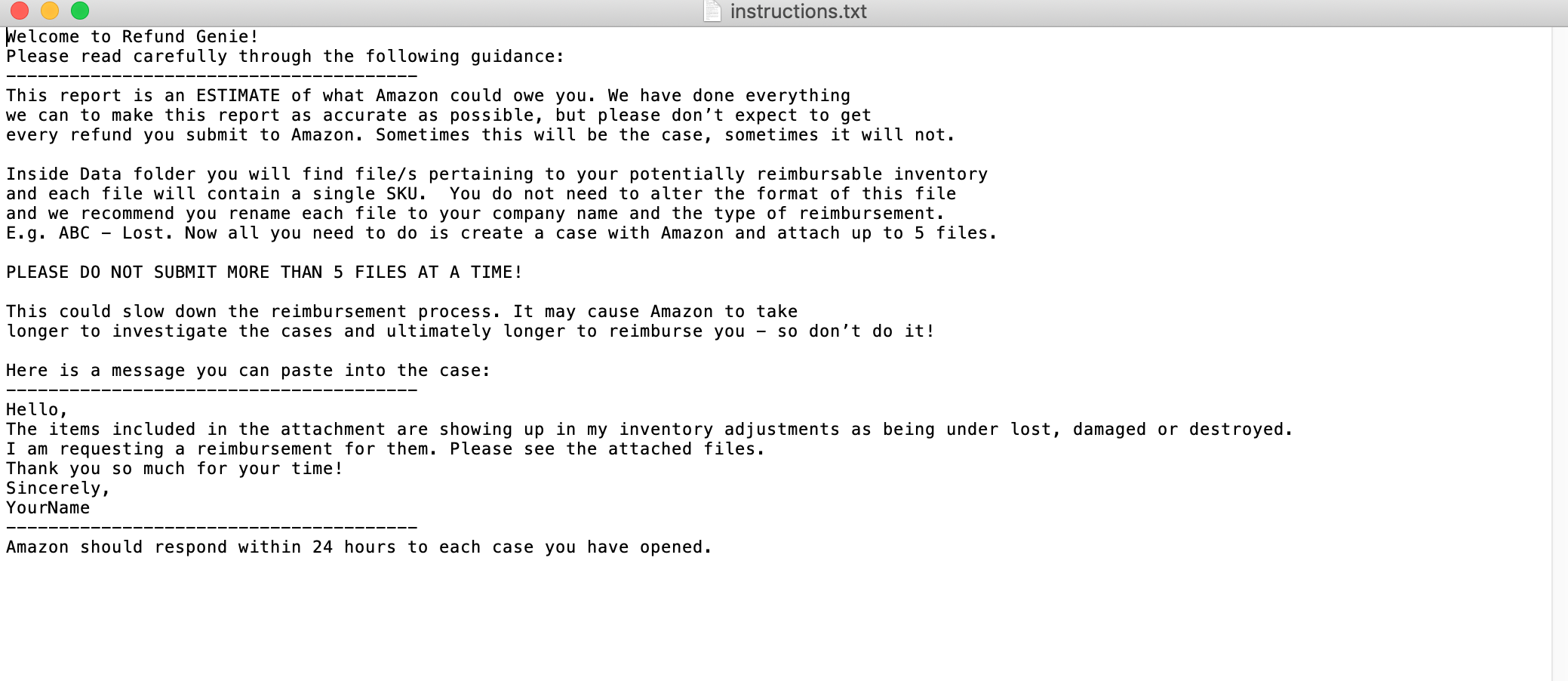 6. The second file is the report containing the SKU and the number of misplaced or damaged inventory. Use this information to prepare your Amazon refund request.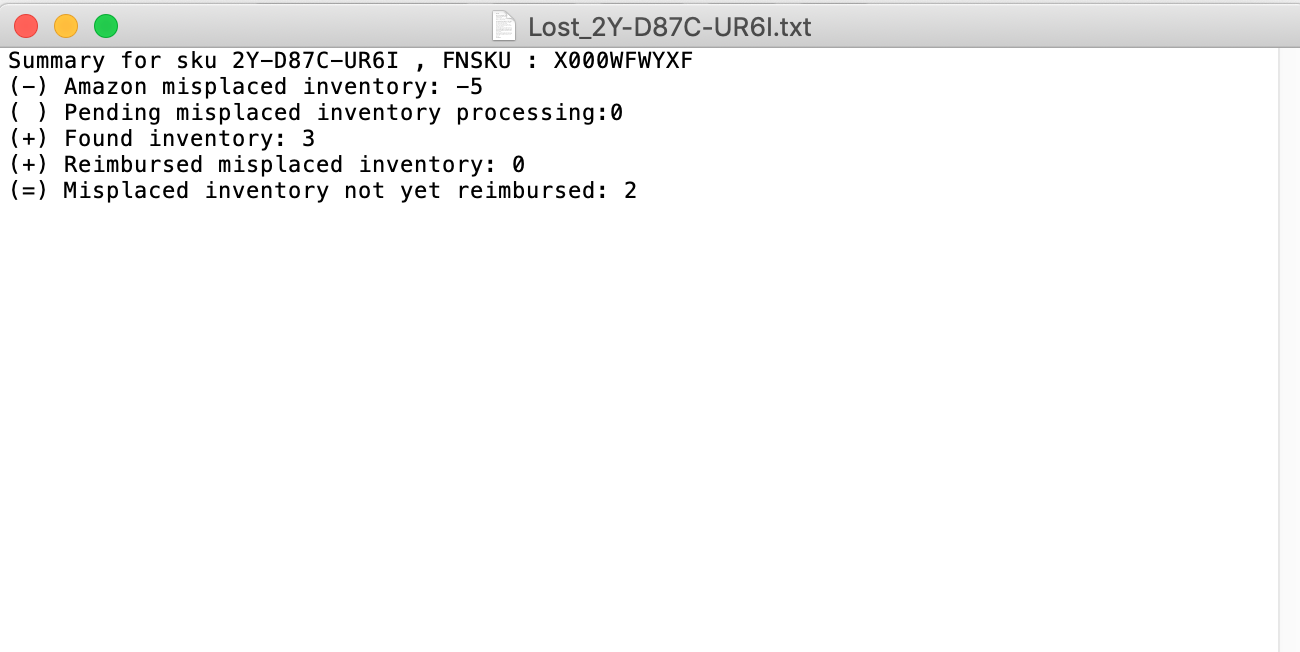 You can now use these reports to go to Amazon's Seller Central to request a customer service agent open an investigation to determine whether Amazon's records match the Refund Genie reports.
Helium 10 recommends that you ask politely for an investigation, and never ask an agent to research more than 5 ASINs at a time. Attach up to five text files to each request.
For more information about requesting a refund from Amazon, check out our training videos. Click on the Learn button in the top right corner of the Refund Genie dashboard.