You've established a product in a market and worked hard to make it a success, but competitors are working to unseat you from your position as a top seller. How do you proactively gather the data to guard your product's long-term success?
Or, you're contemplating selling a product in a new, unfamiliar market, and there are several competitors fighting to be the top sellers. How do you craft a plan to launch a product that competes and outperforms the top sellers?
In a demanding online retail world, effectively monitoring your existing or potential markets for changes and new opportunities can seem impossible. Fortunately, Helium 10's Market Tracker 360 is the leading eCommerce analytics solution that empowers Amazon sellers worldwide to make smarter business decisions through in-depth competitive insights and personalized pathways toward greater productivity and revenue.
Although we always recommend connecting your Amazon account to get the most out of our tools at Helium 10, this tool does not require a connection with your seller account to harness the power of Market Tracker 360. Let's get started!
1. The first time you open the tool, you'll see a welcome page with the primary benefits of activating and using Market Tracker 360.
2. Now, let's create a market. Before entering keywords or ASINs, select the regional marketplace you are interested in researching by clicking on the flag icon and changing it to your preference.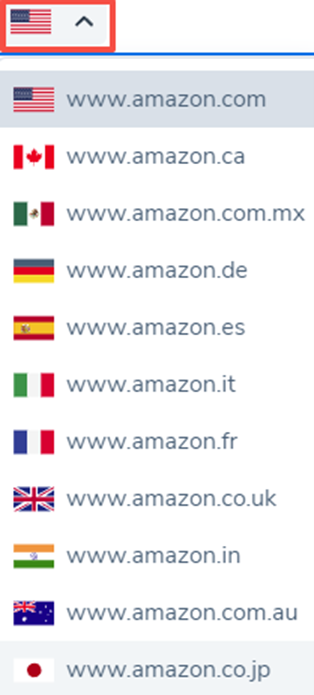 3. Next, enter up to 15 keywords and as many ASINs as you want to define your market. You can also add keywords and ASINs from your My List or from your current list of products by choosing the appropriate options below the search field.

You have three options for what you input to create your market: ASIN, keywords, or ASIN and keywords.
a. ASIN Only Market Creation: Keeps the market static, will only contain the entered ASINs.
b. Keyword Market Creation: This market has two states, it can have automatic market updates enabled or disabled. This means that if you use a keyword to create a market, products will be continuously added based on the keyword composition of the market. As new products are associated with the keyword, Market Tracker 360 will pull them into the market once the data is available! If you have updates turned off, the product pool will remain static after the market is created.
c. ASIN and Keyword Market Creation: This will be a dynamic market unless you choose to disable the automatic market update feature. The market will have the ASINs entered in the market and the products pulled in based on the keyword(s).
4. Below the search field, you will find a Suggestions section based on your recent activity in Helium 10. As you enter more keywords and ASINs into the market's parameters, we'll provide you with suggestions that are more honed into your market's needs. If you see a keyword you would like to add to your market, click the + Add button on the right side.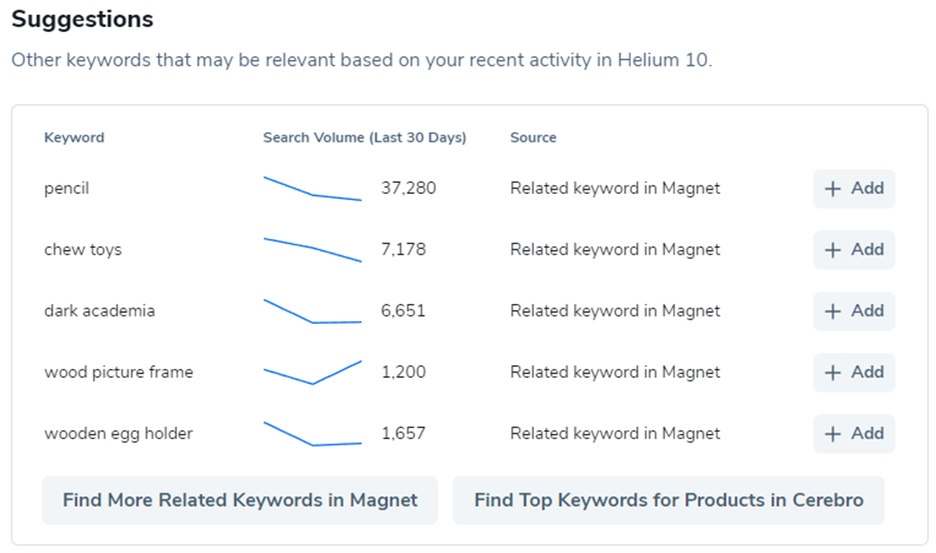 5. After deciding which keywords and/or ASINs belong in your market, a Market Composition Preview will appear on the right side of the screen showing an overview of what the market will look like.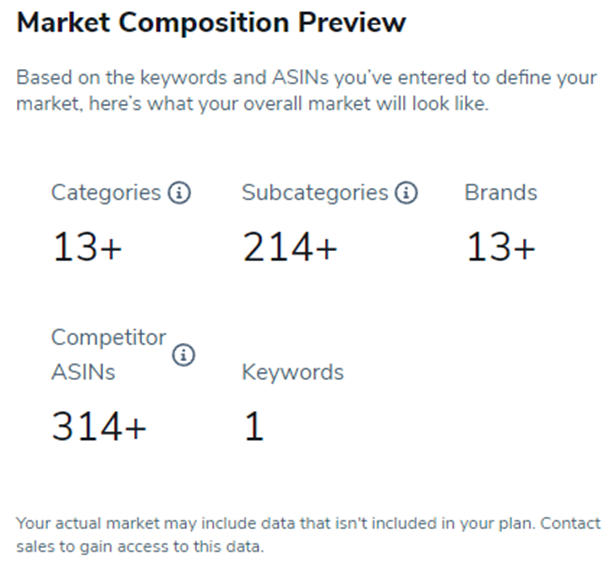 6. Once you enter your desired keywords and confirm the marketplace, click on the Create Market button at the bottom of the screen. If you used keywords to create your market, you will be able to enable or disable Auto update market by toggling it on or off before pressing Create Market. If you choose to disable it, products will now be stored in your Hidden Products tab.

7. Once you do that, Market Tracker 360 will begin to analyze and build your market with products that relate to your desired keywords and ASINs. This will take us to Your Market List, where you can see the status of your created markets. While the new market is being created, the status will be listed as Building.

8. When the tool finishes building your market, you will receive a confirmation email and the status will turn green and say Ready.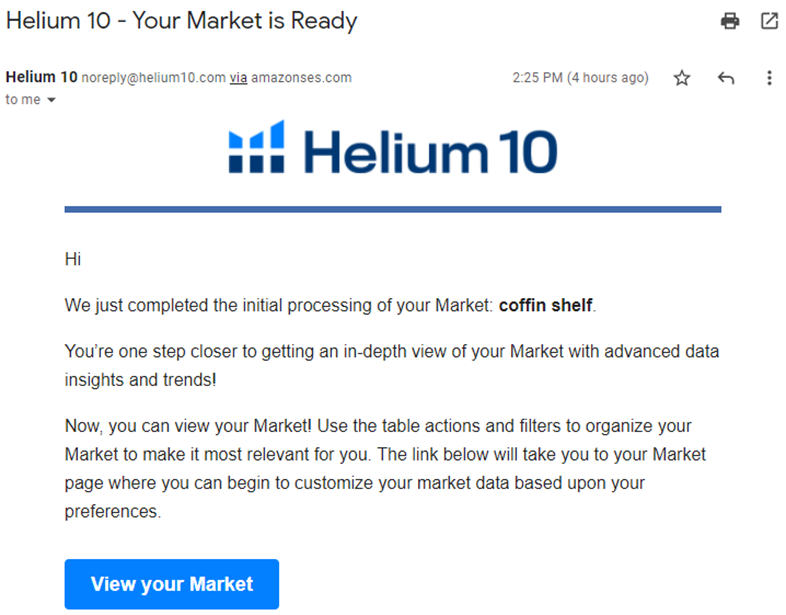 9. Click on the market name, and the Curate Your Market page will open.
Note: You can return to the Curate Your Market page anytime by going into Settings, so don't stress your decisions now.
The blue fields at the top are instructions on how to get the most relevant view of your market.
a. Selecting Filter opens the filter menu on the right. Use each field to fine-tune your market.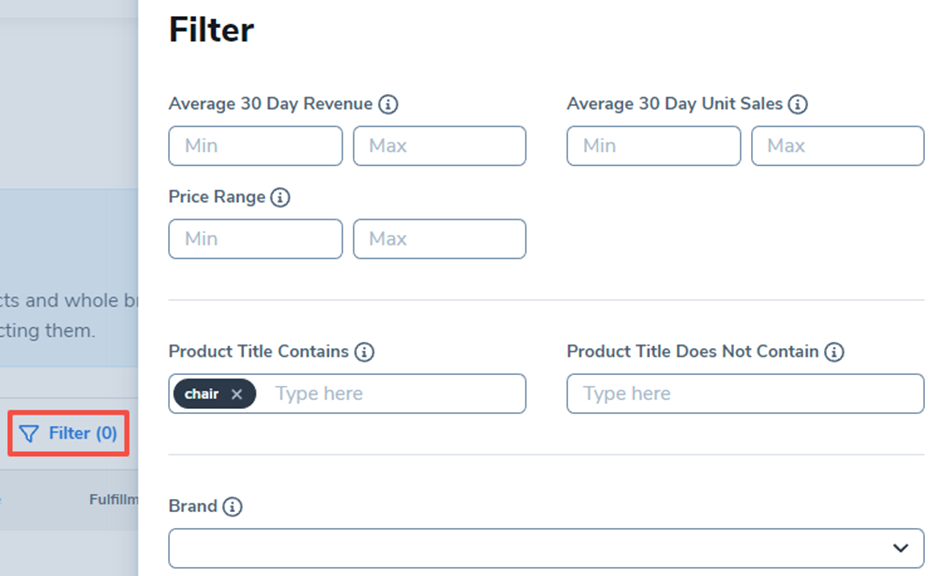 b. Selecting View and Edit Categories and Subcategories within the Market Composition Preview will let you filter out the categories and subcategories that are not relevant to what you are looking for in your market.
c. Select the checkboxes to add or remove entire brands or individual products.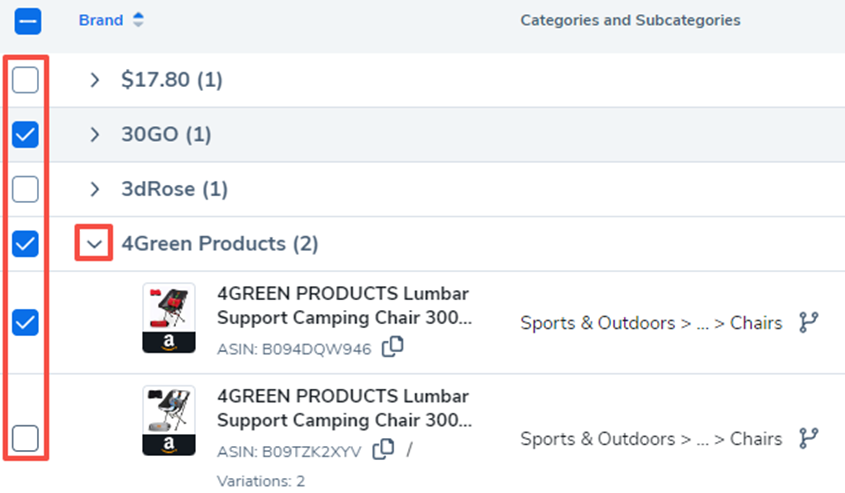 10. Once you've finished curating your market, select Add Products to My Market at the bottom.

11. Your new market will now be displayed. You can edit your market name by clicking on the pencil icon.

12. The data defaults to the last 6 months. If you would like to change your timeframe, click on the date range and choose what works best for you.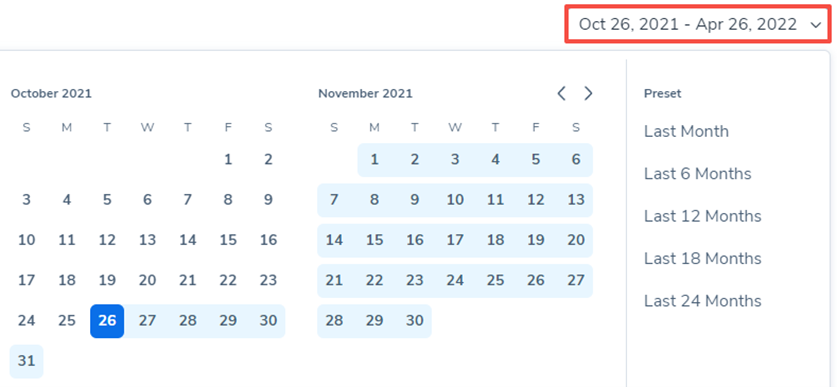 13. When reviewing your market, you may find it has a vast amount of data - not all of which is pertinent to your business's needs. Depending on your specific goals, we suggest manicuring your market by leveraging our filters. These will enable you to segment the dataset in a variety of ways to provide greater context as to which competitors are overperforming and underperforming based on your desired criteria. To accomplish this, click on the Filter button and adjust the market to your preferences. The filters you choose can also be saved as presets to better narrow down your market data.

14. Once you have selected your filters, click Apply to see your adjusted market data.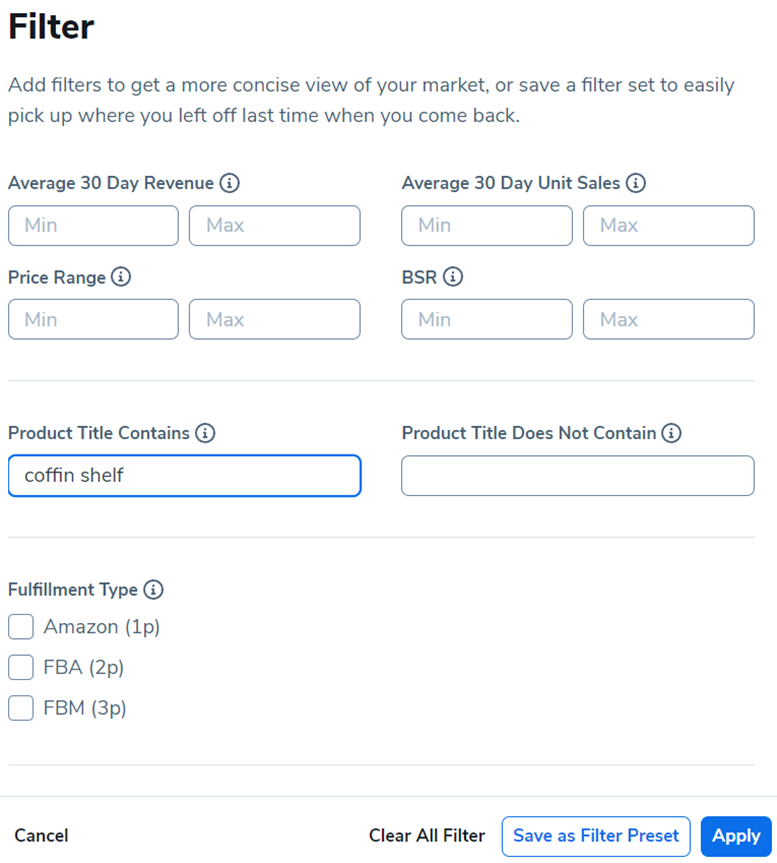 15. The Market Performance section provides a summary that includes: your market share, revenue, and unit sales.

Below this summary, the Market Performance section displays a leaderboard specific to your market for the following categories: Top Performing, Top Declining, and Fastest Growing.

16. To begin analyzing the data, choose which metric you are interested in by clicking on one of the tabs: Revenue, Units, Products, Brands, or Sellers.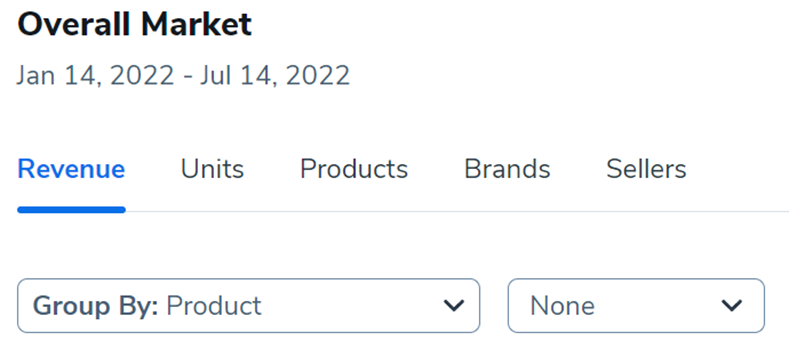 17. You can organize the data by opening the Group By drop-down menu and choosing from None, Product, Brand, Me vs. Competitors, or Seller type.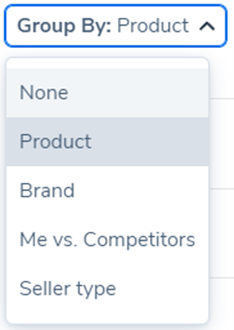 18. A graph will display the metrics you specified above. You can adjust how the graph is displayed by choosing between the options highlighted below.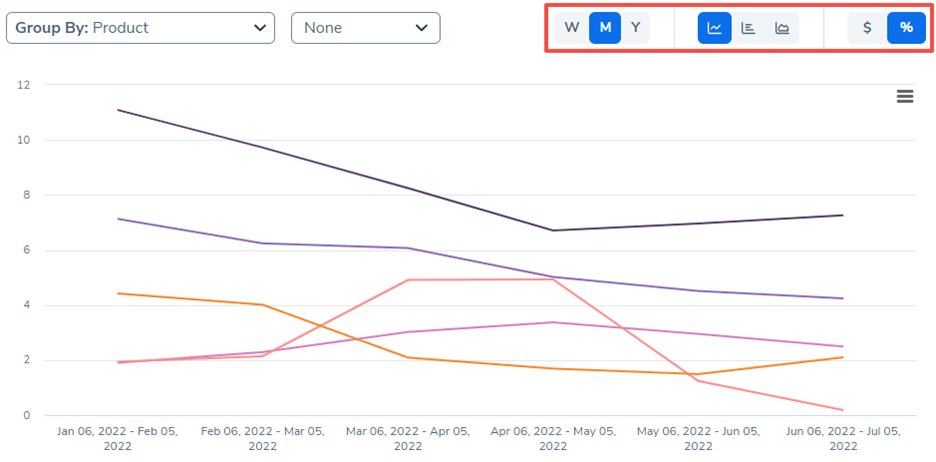 You can select Year over Year to display the % change compared to the previous year.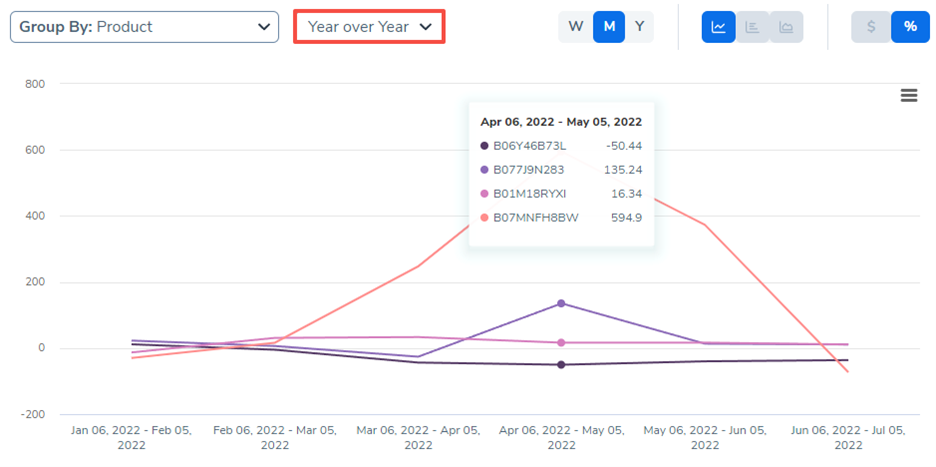 19. The products on the graph will have details below including the color they are represented by on the graph shown in the Legend column. You can toggle which products you want to be displayed on the graph within the Legend column.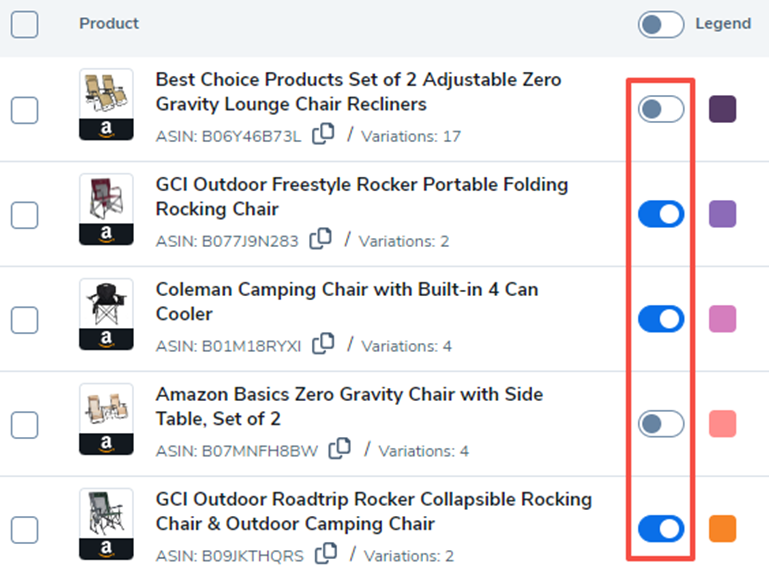 20. The All Products section at the bottom displays all of the products contained in the market. You can click on each column to sort by that metric. The All Products section is also affected by filters. This table was meant to present all current metadata on products within the market as a one-stop shop from various tools such as Black Box, Xray, and Market Tracker 360.
21. This data is ideal for exporting. To export, click the Export Data button at the top-right of the All Products section.