How Long Does It Take Refund Genie to Produce a Report?
Refund Genie only works on your Helium 10 account if you have your Amazon MWS token connected. The first time you connect your token and click the Refund Genie Proceed button, it generally takes a minimum of six hours (potentially up to a day in rare cases) to generate a report.
You connect your token under your account, in the Connections section, accessed via the profile drop-down menu on the dashboard. Once your token is connected, you will still need to open Refund Genie and click the Proceed button to prompt the software to actively begin searching Amazon for the data it uses to build your report.
What Happens If I Disconnect My Token, or It Expires, and I Reconnect the Token?
When you reconnect your token, your data will have disappeared from Refund Genie, and you will not receive a report again until your next established report generation day, which remains the same as before the token was disconnected.
For example, if Refund Genie produces a report, and then two days later you disconnect your token, and then reconnect it, Refund Genie will remain on schedule to produce its next report one month after the date of the most recent report.
This new report will continue to cover data from the previous 18 months, but may not contain any new potential reimbursements. It can take up to a month or longer before Amazon reports new potential damaged or lost products. If Amazon does not have any new lost or damaged products to report, neither will Refund Genie.
What Happens If I Link Additional Tokens to My Helium 10 Account?
All tokens will be connected to your single Helium 10 account, so, Refund Genie will incorporate all your Amazon data into one report, which will be sent out on your original report generation day.
For example, if you add a second token to your Helium 10 account the day after Refund Genie produces a report based on your original linked token, the software will not produce another report again until the next generation day, which occurs during the following month.
When Does Refund Genie Post New Reports?
Refund Genie creates a new report once a month, depending on the day a user first activates their Refund Genie software (click its Proceed button after connecting your MWS token).
In the sample account below, the initial report for the original token was generated on the 23rd of the month. Note that all subsequent reports are also dated on the 23rd of the month. The number of reports are based on additional tokens being added.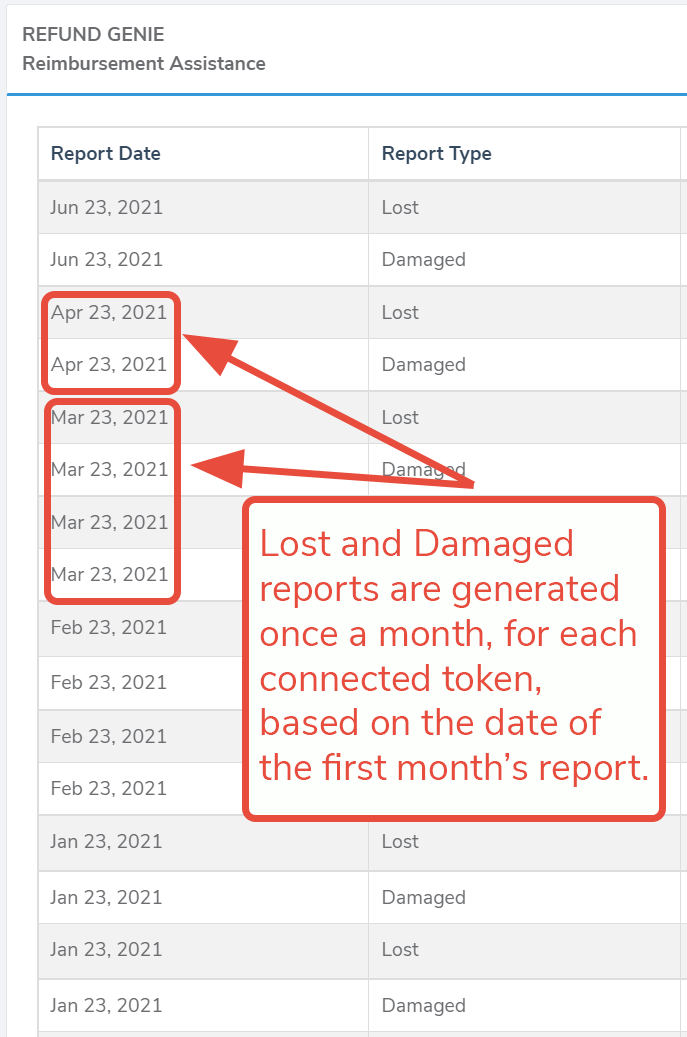 January, February and March show reports for two tokens, then April shows reports for only one. The missing May report likely occurred due to a failure to renew the token permission on Amazon, which periodically requires sellers to re-approve 3rd-party connections.
Once that token was re-approved and reconnected, Refund Genie created a new report for the month of June, which maintains the report generation day of the 23rd of the month.
Why Are Some of My Refund Genie Reports Missing?
Refund Genie only collects data once users have activated the software by clicking the Proceed button on Refund Genie's dashboard, and while their MWS token is connected to their Helium 10 account.
If at any point, the MWS token is disconnected or never connected, Refund Genie is not activated nor prompted to collect data for a report.