You've done your keyword research in Cerebro and are ready to either download the information or transfer it to another Helium 10 tool to start creating your Amazon listing.
Here's how to take that next step:
In a previous video we collected 928 keywords for a group of ASINs selling a collagen facial sheet mask.
After narrowing down the search results with Cerebro's filters, these were the results: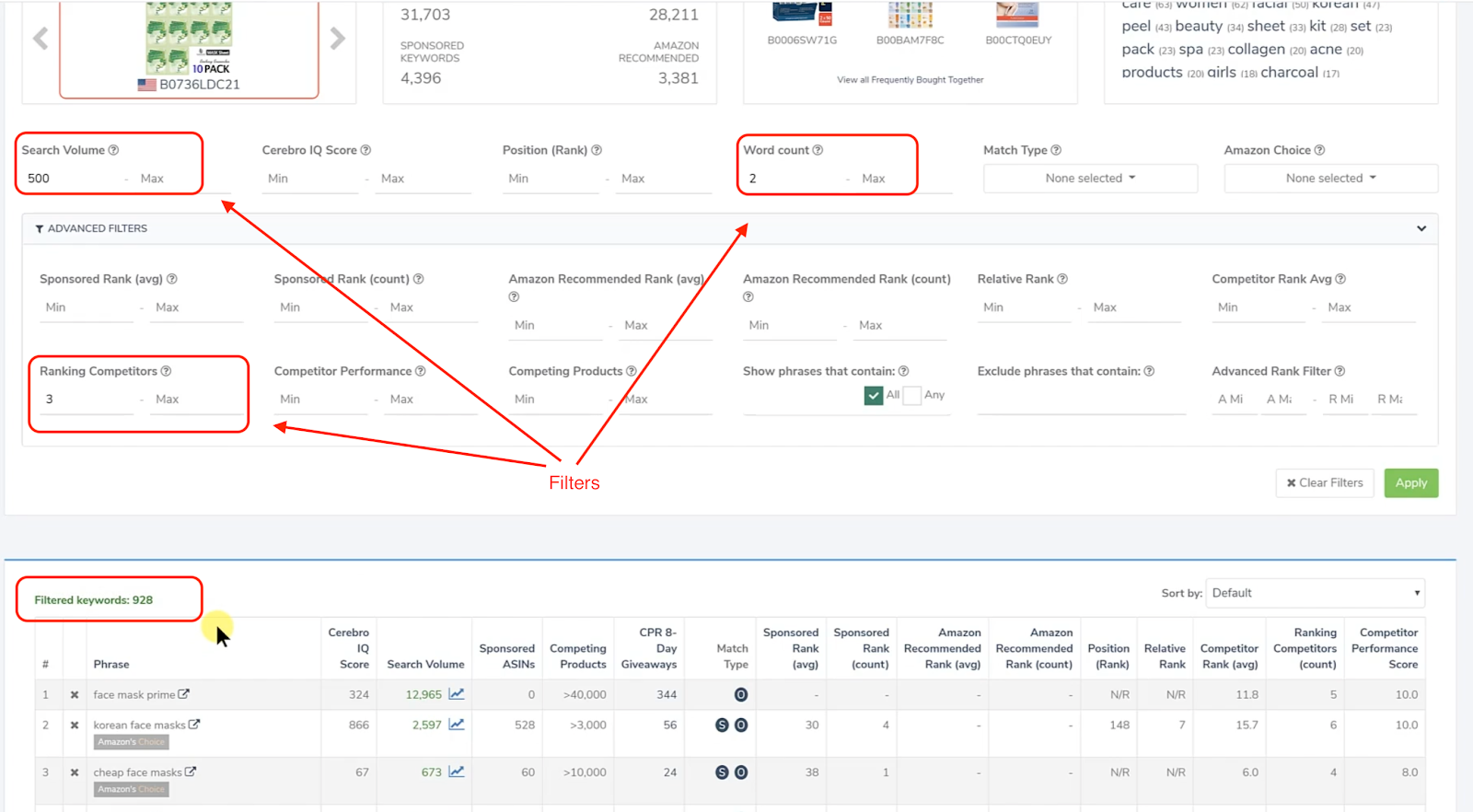 Now you have 928 keywords that you would like to export.
The first thing you need to do is navigate to the Export window in the top right hand corner.

From there you can choose to export to:
A CSV file

An Excel spreadsheet

Frankenstein

Copy to clipboard
To begin, choose Export to Excel.
At that point, Cerebro will download the entire list of keywords to a Microsoft Excel spreadsheet.
Now, you'll be able to open it in Excel.

This spreadsheet shows the results of a multi-ASIN search. This represents the full list of keyword phrases for the search categorized in columns according to the way they are displayed in Helium 10's Cerebro tool.
When you navigate to the last of the Excel columns dedicated to specific ASINs, you will be able to track their individual rank on Amazon.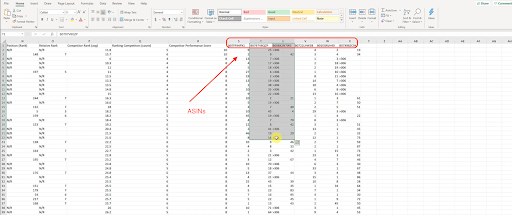 When it comes to managing and editing lists of keywords, Helium 10's Frankenstein Keyword Processor is the tool that you want to use.
To do that, head back up to the Export tab and select, Export to Frankenstein.

Then, your entire list of filtered keywords will show up in Frankenstein like this: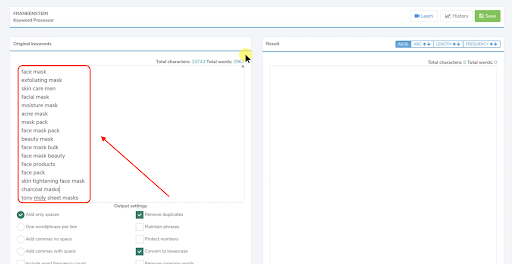 At this point, you can either work with the keywords within Frankenstein, or click the save button in the top right corner, and come back to it later.
Another way that you can use the export feature is by simply copying them to the clipboard.

Let's say that you wanted to track these keywords in Helium 10's Keyword Tracker but didn't want to take the time to copy and paste each single keyword into the tool. All you have to do is choose "copy to clipboard" and they'll be there for you.
From the clipboard, you can quickly copy them directly into Helium 10's Scribbles Listing Optimization tool.
Just open Scribbles and paste them into the keyword box.
Now, you're ready to start building your Amazon listing.