Every single Amazon seller is on a journey. In many ways, this journey takes various, winding paths. However, the destination remains the same: page one of Amazon search results. In fact, the Amazon marketplace has become so competitive that even reaching the first page may not be enough. You need to be at or near the top.
This journey begins with Amazon keyword research - a look at competitor keywords that rank, and therefore, sell.

1. On Amazon, find a product similar to your own and copy its ASIN. You can find the product's ASIN:

By scrolling down to the "Product Information" section of the listing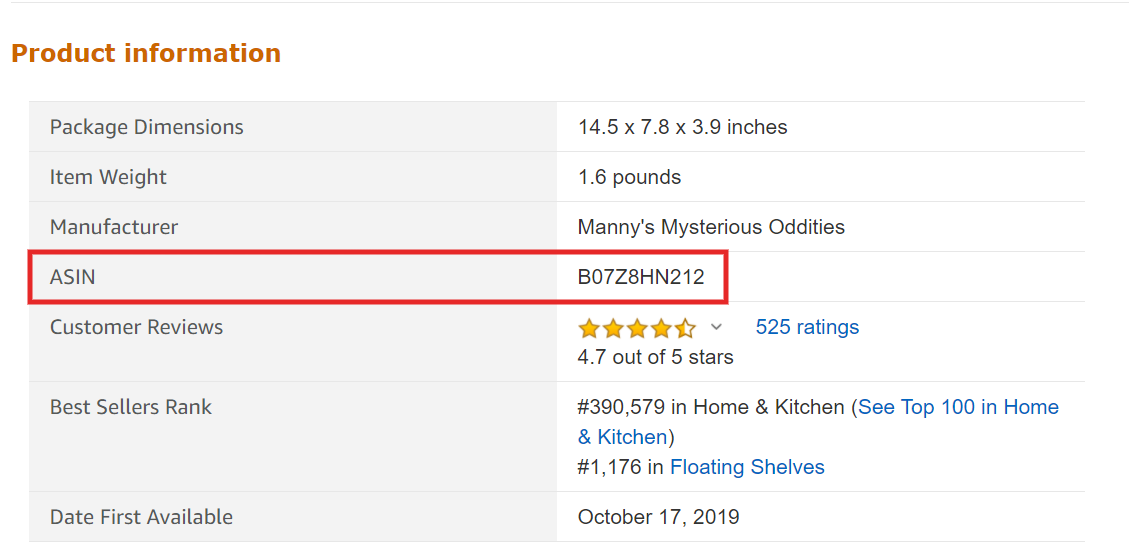 Or

By double clicking it in the URL (every listing's URL will contain its product ASIN - look for the short string of numbers and capital letters)



2. Within Cerebro, paste the product ASIN in the search bar at the top and click "Get Keywords."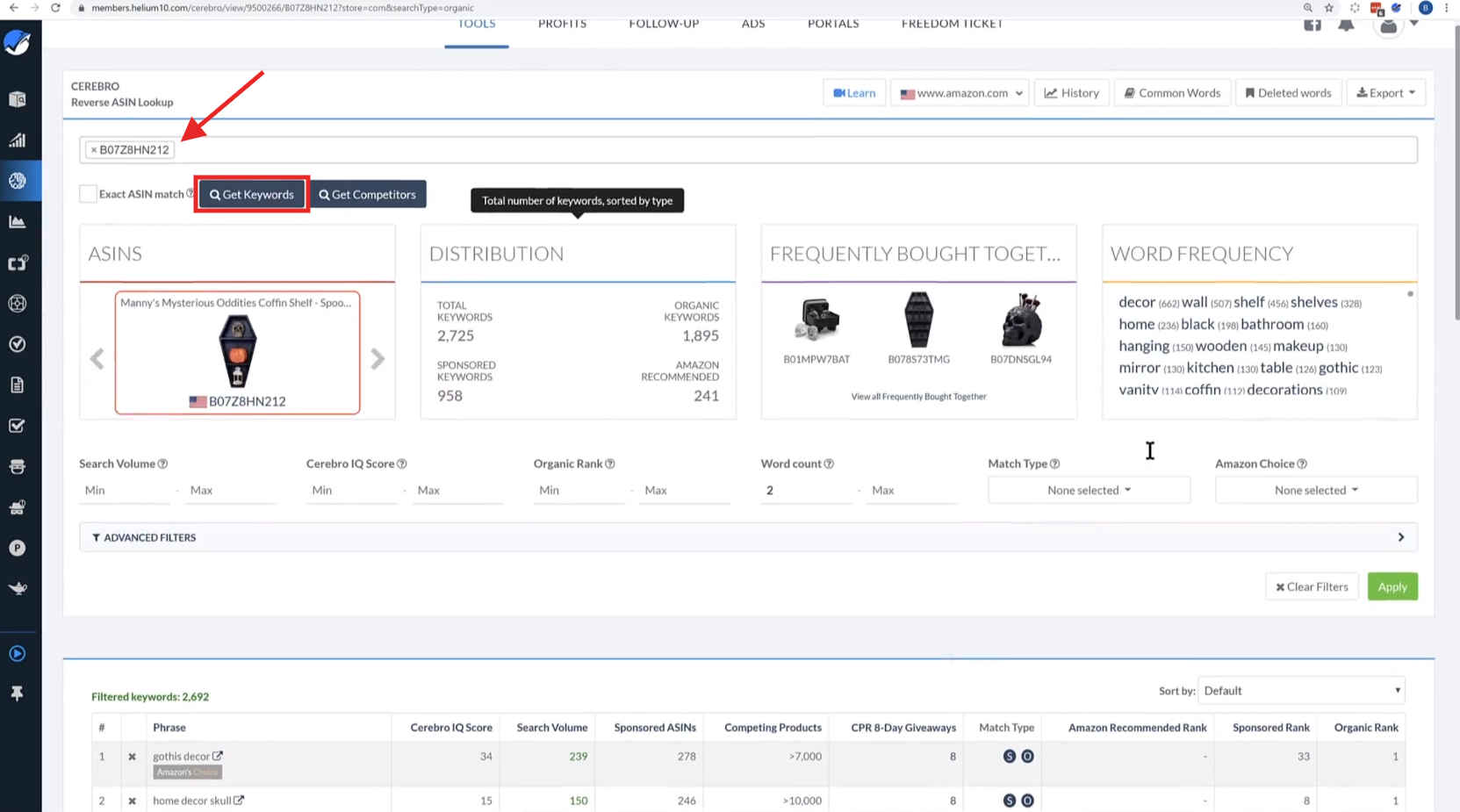 3. Now we have a ton of results. Ask yourself, "Where is this product getting its sales from?" Let's refine our search.

To narrow our list down to only the most successful keywords, filter results by search volume and by organic rank. For example, a 300 (monthly) search volume and an organic ranking of only the top 10 positions (a minimum organic ranking of "1" and a maximum organic ranking of "10").

Click "Apply"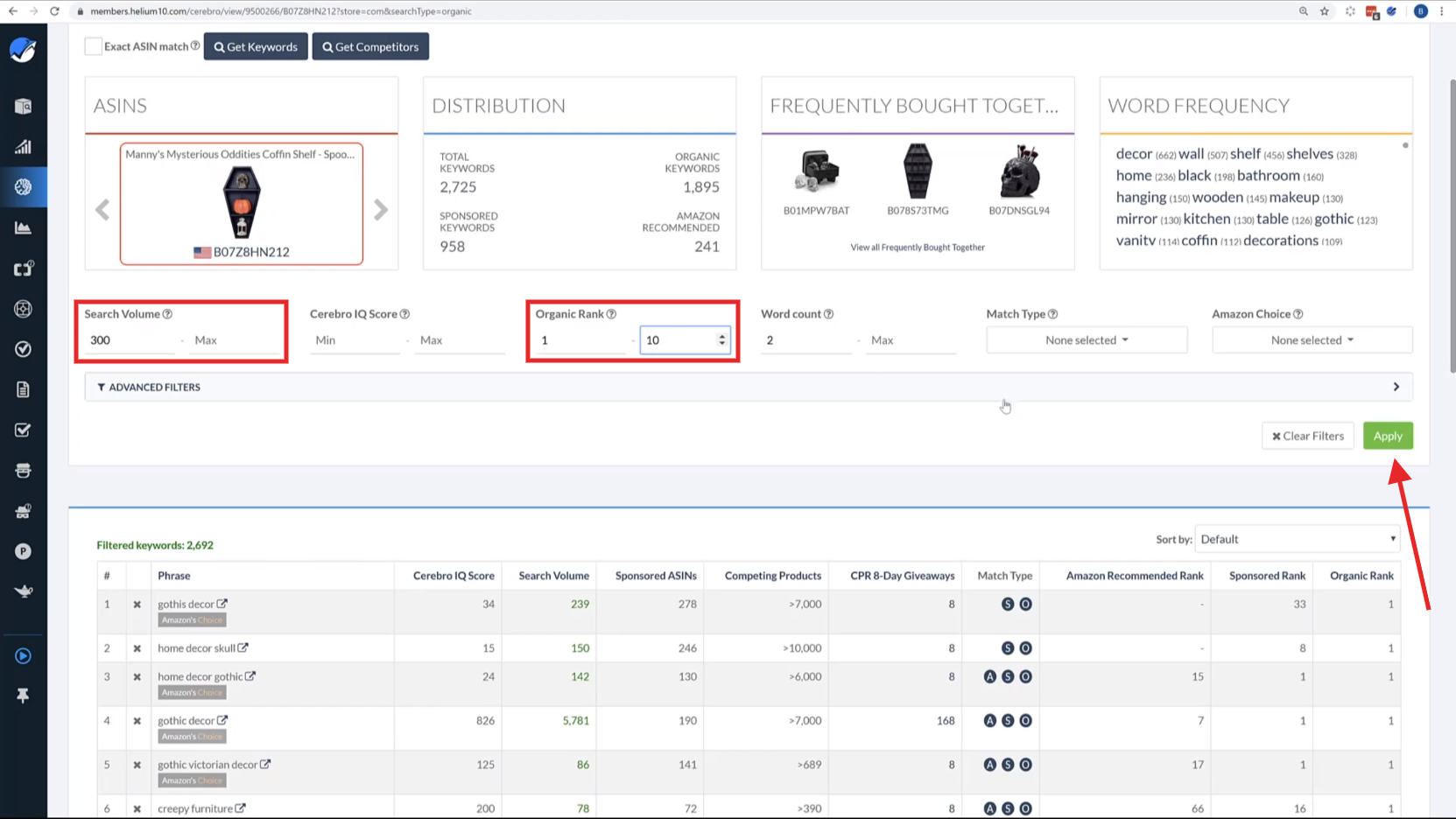 4. Now we have a list that's a little more manageable. Instead of thousands of results, we have dozens.


Your results are broken into (and can be sorted) in a variety of categories:
Cerebro IQ Score

- This custom score is based on the ratio of monthly search volume and competing products. The higher the score, the better!

Search Volume

- Estimated number of times the keyword is searched every month.

Sponsored ASINs

- Number of products detected running sponsored ads in search results related to the keyword.

Competing Products

- Total number of products appearing in search results for the keyword.

CPR 8-Day Giveaways

- Estimation of how many units need to be sold of that ASIN over an 8-day period (from a search of the keyword), in order to rank on page one for that keyword.

Match Type

- Source from which that keyword was drawn (Amazon recommended, sponsored, or organic).

Amazon Recommended Rank

- Keywords Amazon recommends for this ASIN (numbered from most to least recommended).

Sponsored Rank

- Sponsored ad position last detected in customer searches.

Organic Rank

- Organic search position for that keyword for the analyzed product.
Specifically, focus on terms with a high monthly search volume and an organic rank as close to position one as possible. You will also find keywords you hadn't previously thought of before. Even if they're not the highest performing phrases, you may want to include them in your listing. Remember, niche searches often lead to sales that will give you the edge on your competition.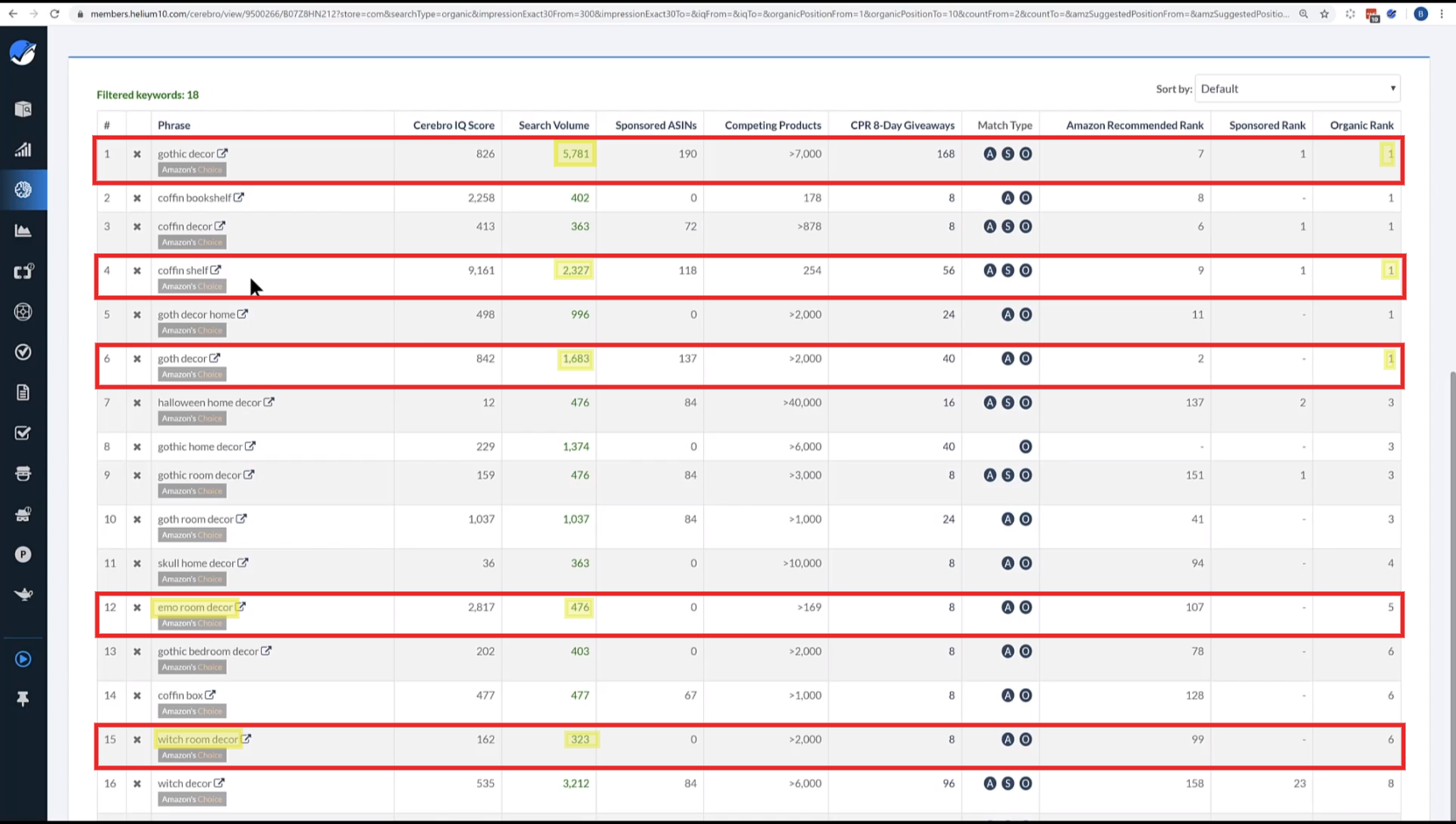 5. To discover which keywords your competition is spending the most money on, head back to the Cerebro search filters and specify a new search (for the same ASIN) using the "Advanced Filters" dropdown.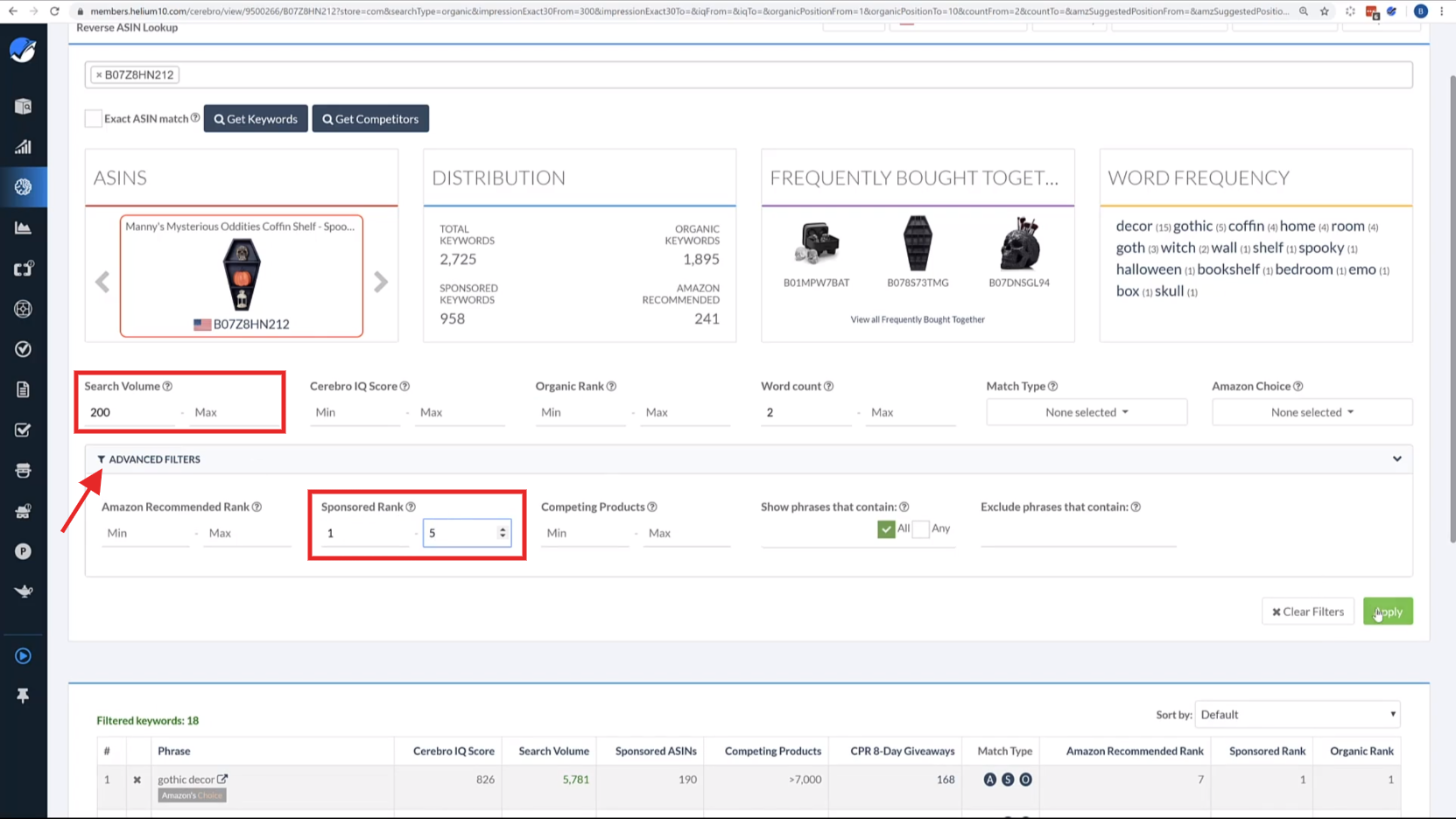 For example, let's look for keywords with a healthy monthly search volume (~200) and that are performing well in sponsored ad rank (~positions 1-5).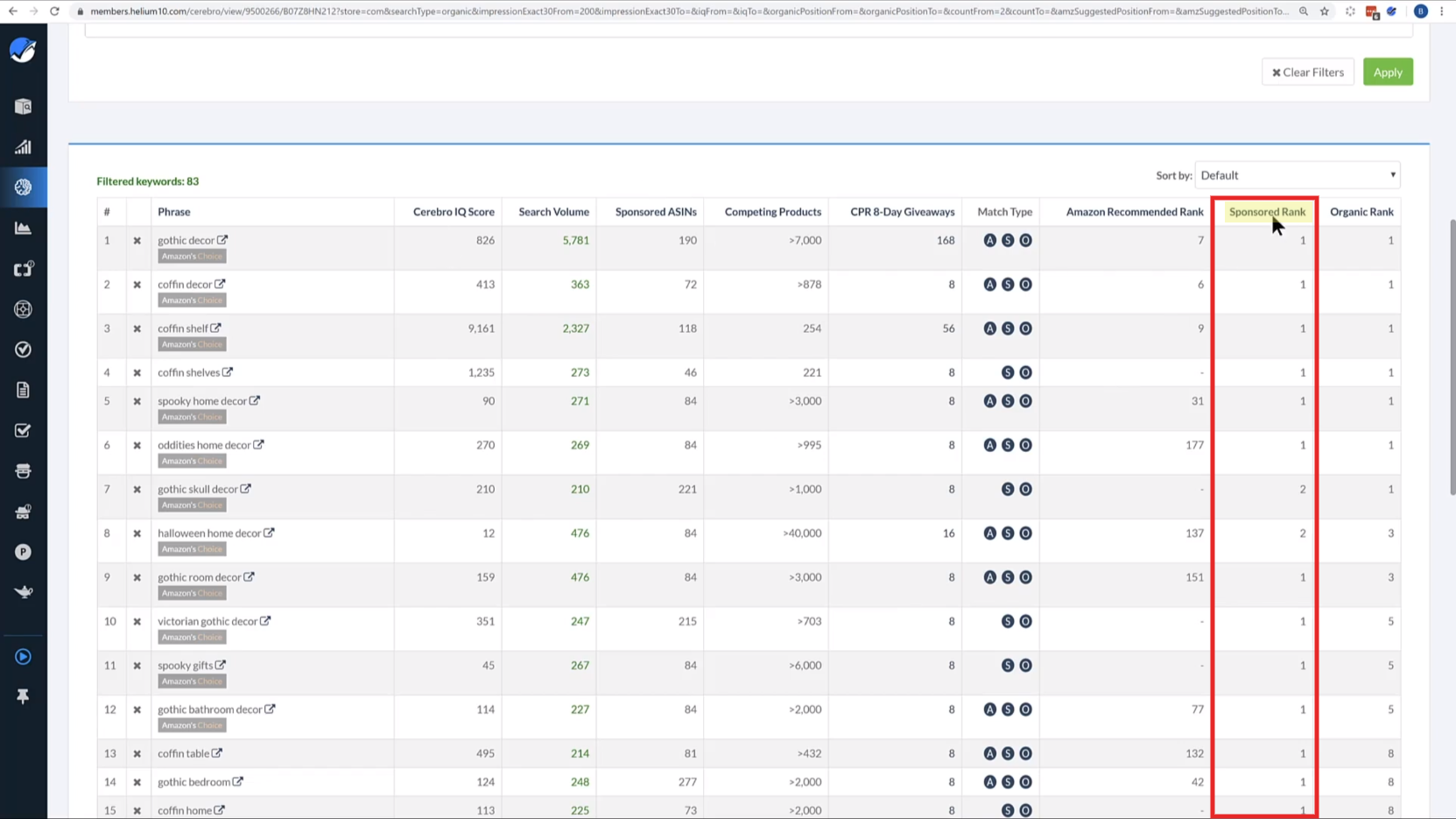 Now we have a sneak snapshot of which keywords your competitor is (presumably) spending the most money on. Are they onto something? Is this perhaps an opportunity to throw your hat in the ring and compete for these keywords? Now you have some data to back up your Amazon advertising decisions.

With only a single ASIN (and a plethora of Cerebro search filters), you have access to data that most Amazon sellers will never know.

Five days of keyword research just became five minutes.



Interested in learning more about this groundbreaking Amazon reverse ASIN tool? Cerebro is waiting!