Occasionally, when you research products on Amazon using Xray, some of the data columns return a reported N/A (not available) instead of a number.
Helium 10 is committed to providing only the best data, so if Amazon doesn't make certain data available at the time of a specific search, Helium's tools note the missing data with N/A. There are a variety of possible reasons for that missing data.
I. The category is not supported.
Helium 10 currently supports the following categories in the U.S. marketplace:
Appliances;
Arts, Crafts and Sewing;
Automotive;
Baby;
Beauty & Personal Care;
Books (primarily physical);
Camera & Photo;
Cell Phones & Accessories;
Clothing, Shoes & Jewelry;
Computers & Accessories;
Electronics;
Grocery & Gourmet Food;
Health & Household;
Home & Kitchen;
Industrial & Scientific;
Kitchen & Dining;
Musical Instruments;
Office Products;
Patio, Lawn & Garden;
Pet Supplies;
Sports & Outdoors;
Tools & Home Improvement;
and Toys & Games.
The list is broad, but it still leaves out some categories like Video Games, Movies & TV, CDs and Vinyl, Kindle, Fashion, and Music. If the item you are researching is not ranked in one of these supported main categories, Helium 10 returns a N/A placeholder. Keep in mind that the supported marketplaces vary by country. To check to see if a category is currently supported in the country where you are selling products, you can check the drop-down menu in Black Box.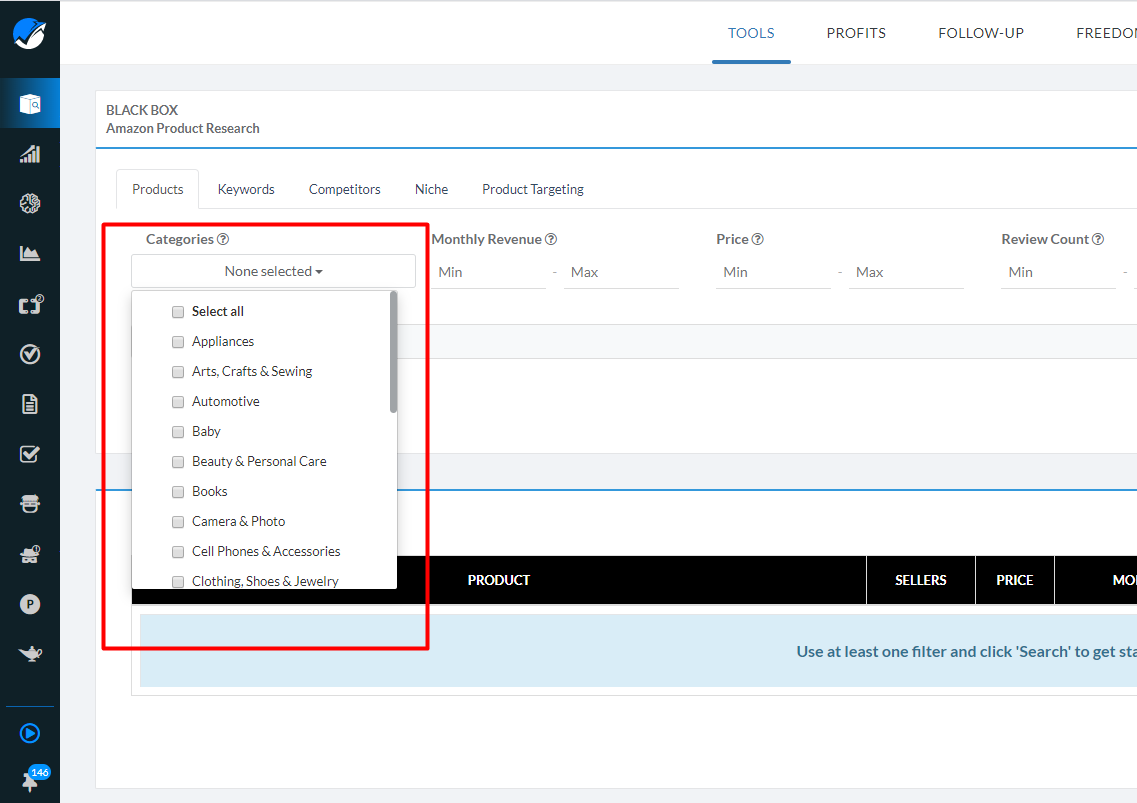 II. The product doesn't have an Amazon BSR (Best Seller Rank) in the main category, therefore the ASIN's BSR most likely appears under a subcategory.
The main category Seller's Rank is essential for sales estimation. Amazon doesn't share this data for some ASINs. And though the product falls under the main category, Amazon might only provide a subcategory BSR for it.
III. The ASIN does not currently meet Helium 10's criteria to be included in the research results.
This could be due to low or highly volatile BSR, unstable data, or number of other factors.