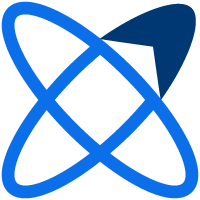 The Adtomic Ad Manager gives users access to an essential PPC management tool, its advanced Campaign Builder. To be able to access the Ad Manager and use the Campaign Builder, users on different plan levels will be guided through slightly different paths.
The process can vary for all users, depending on the plan level, whether the user is on a primary or secondary account, and whether the PPC token is connected, or not.
I. Connect Your PPC Token
If you're new to Helium 10 and have signed up specifically to use Adtomic, before you do anything else, you should connect your Helium 10 account with your Amazon account. You can confirm your PPC token is connected by checking the Connections page under your Profile.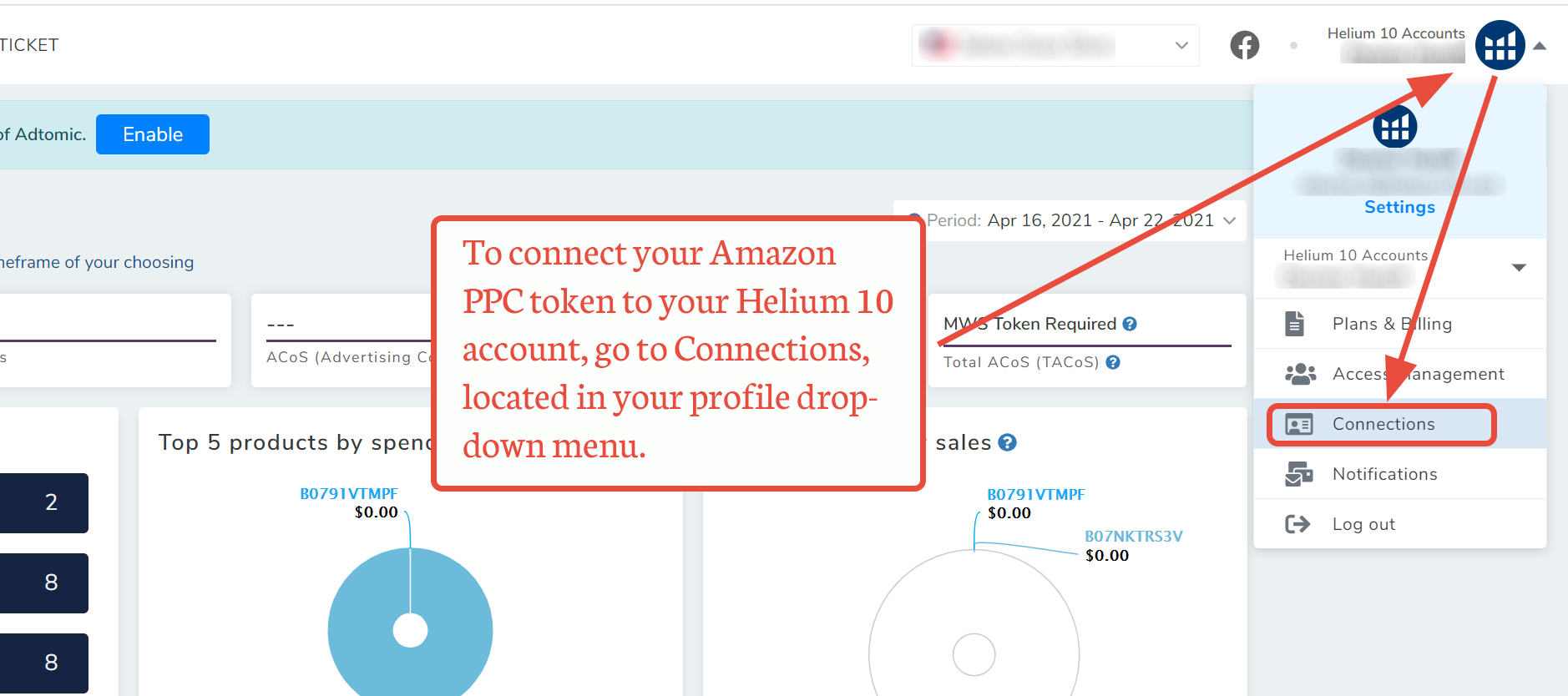 The box titled Connect your PPC Accounts should have a green Active notification. If not, click the + Add PPC Token and follow the guided instructions.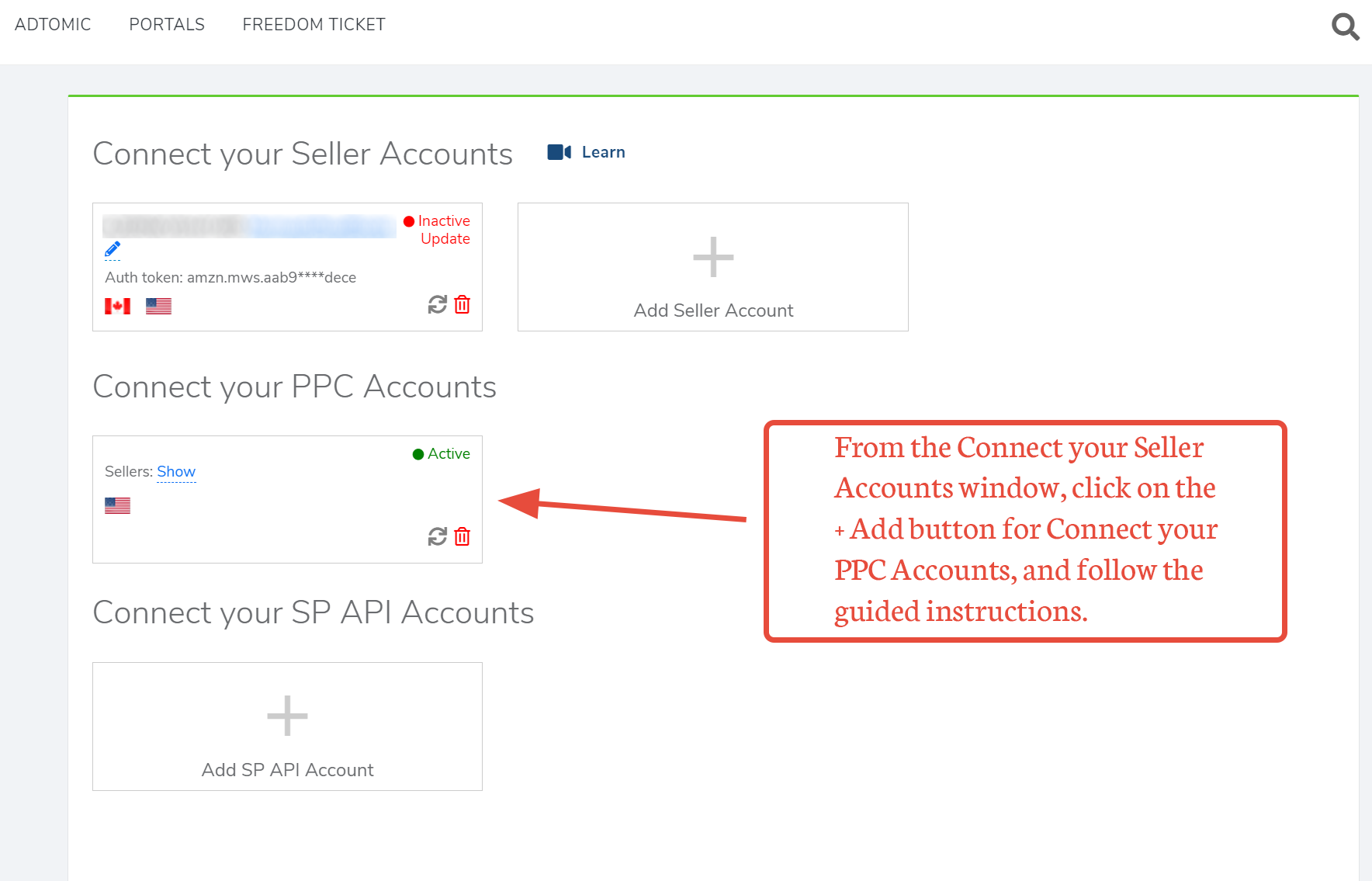 Now, let's check whether you can access Adtomic inside your Helium 10 dashboard.
II. Access Adtomic
1. Sign into Helium 10 and click on the Adtomic link in the top menu, or use the drop-down menu under Marketing to access it on the left side of your screen.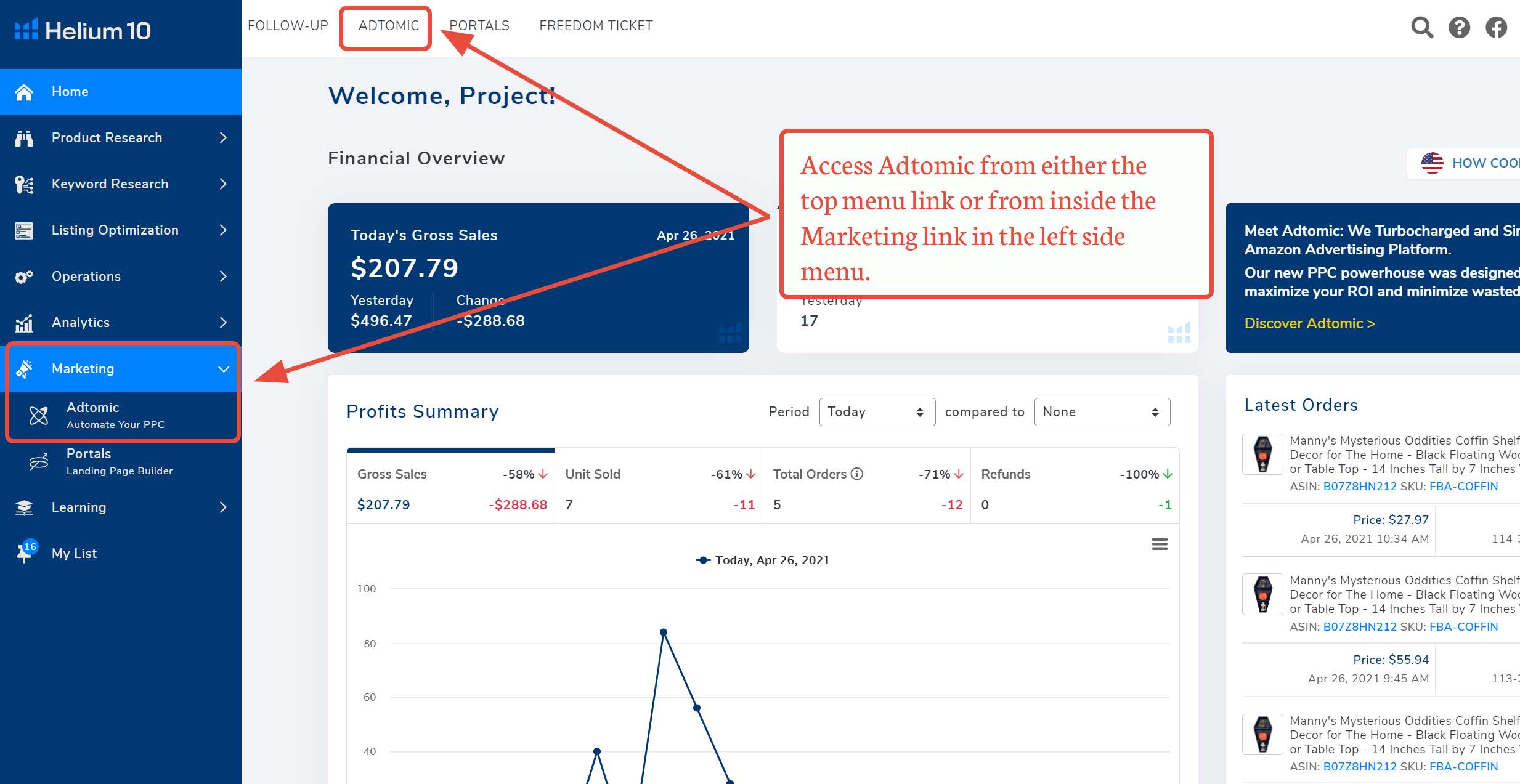 2. The first time you open Adtomic, you'll see an introductory welcome page. You may want to read over the brief summary of what Adtomic does to help you manage your advertising campaigns. When you're ready, click on the blue Experience Adtomic button.
If you are not subscribed to a plan that includes full access to Adtomic, you may be directed to the Plans page, where you can upgrade your account to include the PPC management software.
If you are directed to the Plans page, click on the Upgrade Plan button in the top menu bar. If you want to upgrade, you can find the Plan page using your Profile drop-down menu. Go to the Plans and Billing page.
If your plan includes Adtomic, but you do not have your PPC token connected, you will get a prompt asking you to go to your Profile and activate your token (see Connect your PPC Token).

If you are on a plan that includes Adtomic, and you have connected your PPC token, continue to step three.
3. If you have previously authorized all your Amazon tokens, then Adtomic will load. If a banner appears across the top of the screen stating that the Profile (or account) you are logged in under is read-only, click the Enable button.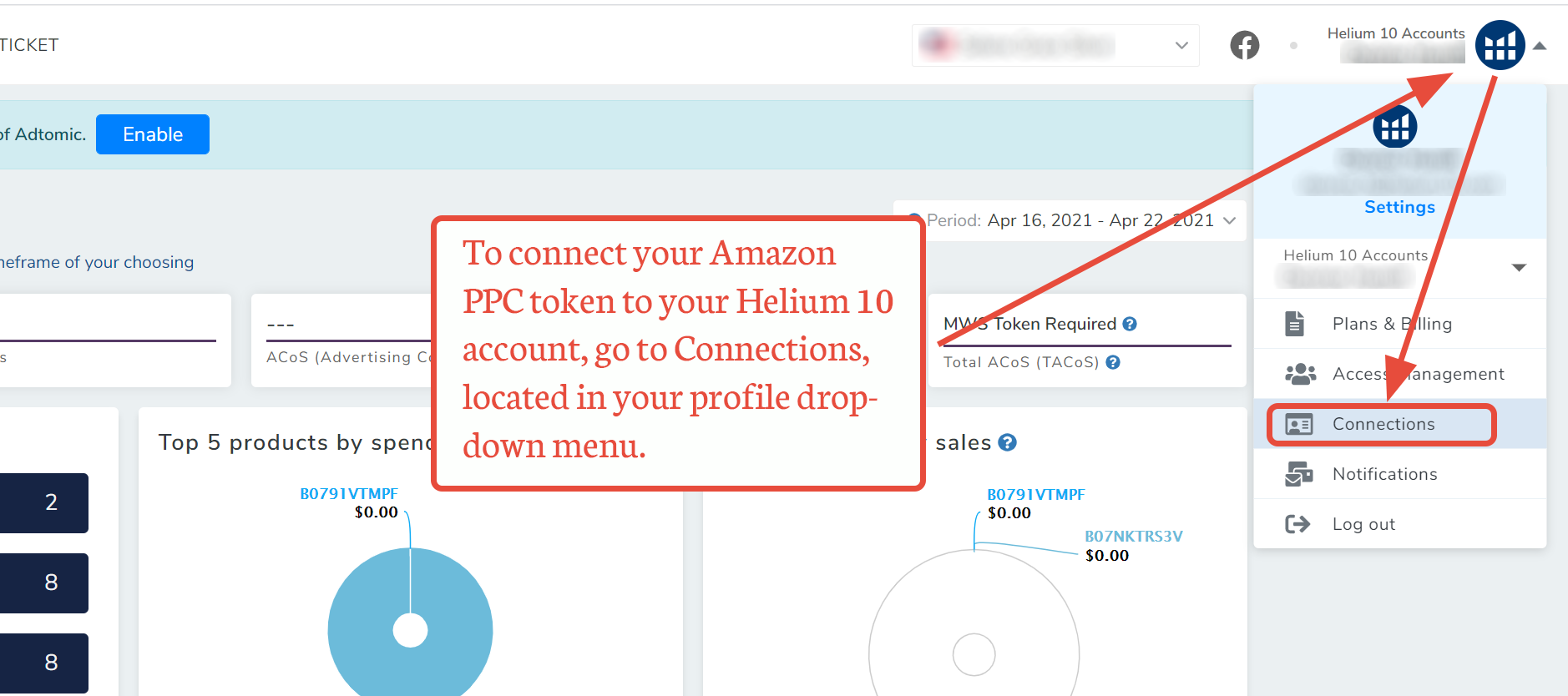 You may also see a pop-up window asking you to Enable a specific profile if you try to use the Ad Manager using a read-only Profile.

4. To control which Amazon accounts can be managed using the Adtomic Ad Manager, use the account switcher drop-down menu. Click the Edit button.

5. In the Ad Manager account list, select or deselect the accounts you want to manage using Adtomic. Keep in mind that any ad spend over USD 10,000 will be assessed a 2% fee by Helium 10. (To read more about the 2% fee, check out "How Does the 2% Fee Get Assessed?") Click the Save Changes button to close the pop-up window.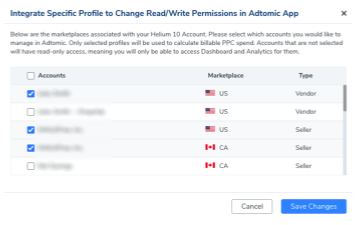 6. If you have previously authorized all your Amazon tokens, Adtomic should now be active. It may take a few minutes to import all your data.
Again, if you have not authorized your PPC token in the past, you'll get a screen asking you to grant Amazon Advertising access to Helium 10. Click on your Profile drop-down menu and select Connections.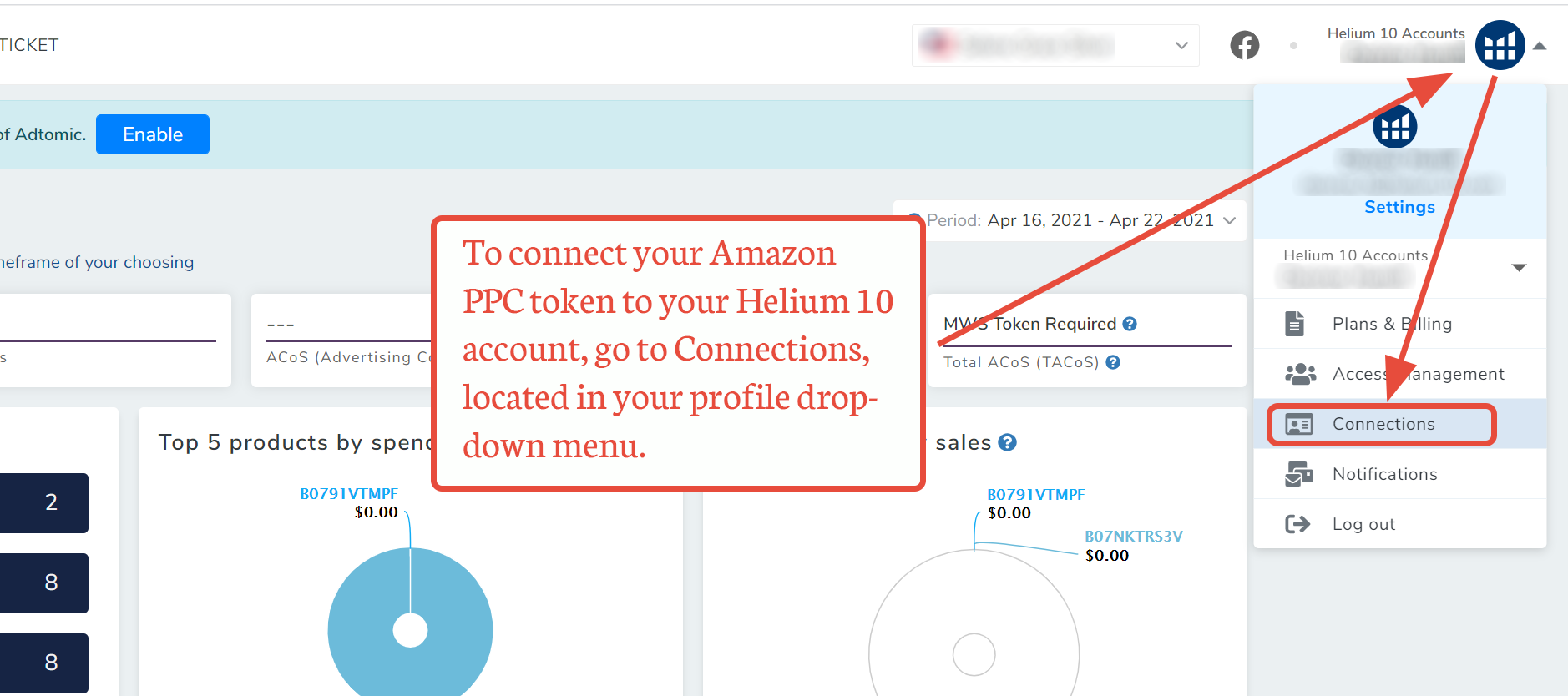 7. On the Connect your Seller Accounts window, click the + button to Connect your PPC Accounts.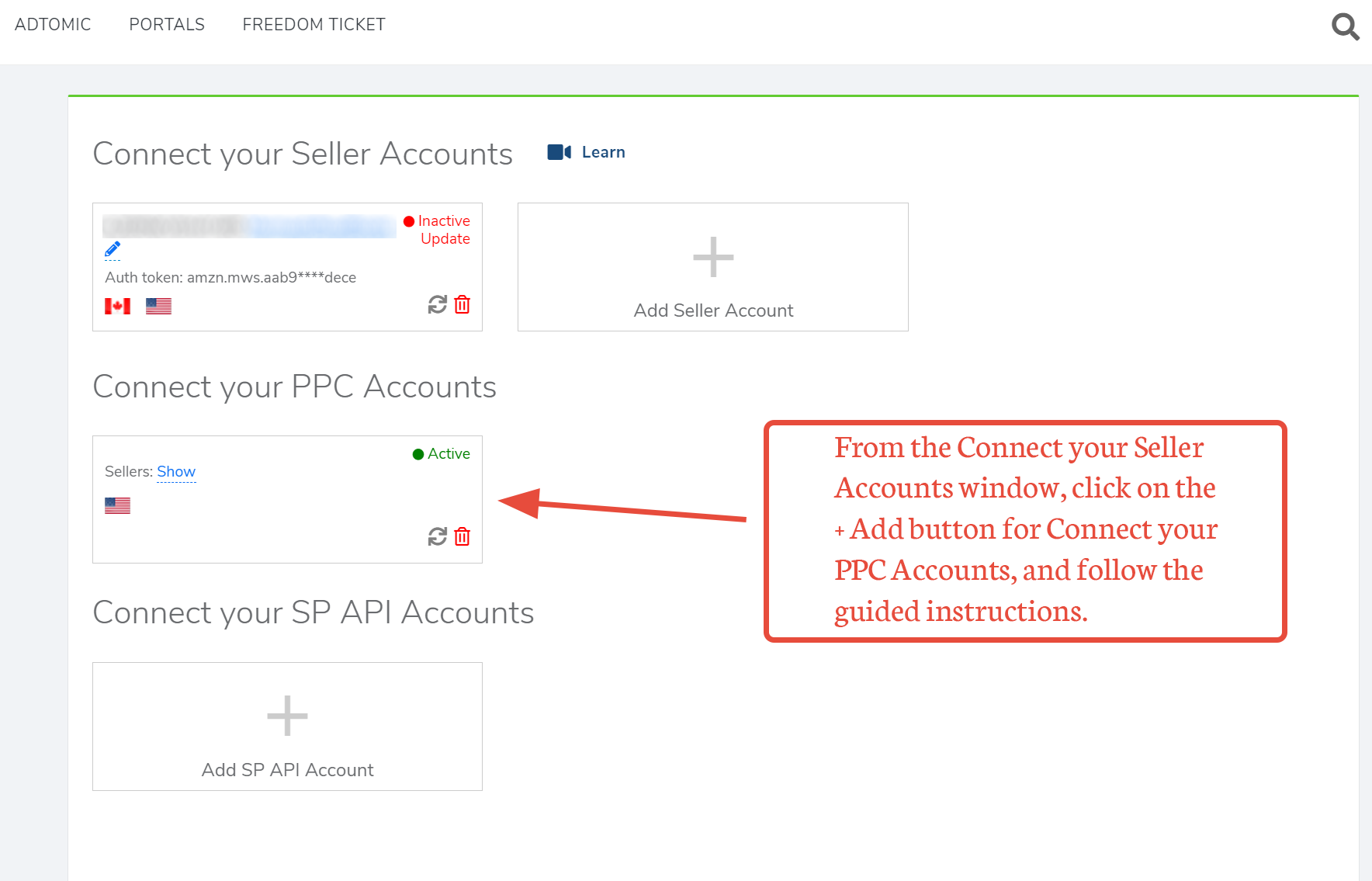 8. A window should open prompting you to approve Helium 10's access to your PPC data.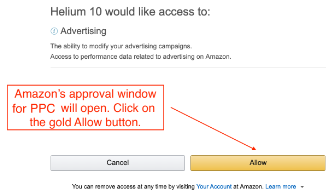 9. Return to the Adtomic dashboard. Now you should be able to access Adtomic. Depending on the number of campaigns and products you have running on Amazon, it may take Helium 10 up to 48 hours to import all your data for you. Once the data has loaded, you will see the main Adtomic dashboard displaying your data.
If you have difficulty connecting your PPC token using these steps, please contact customer support.