If you're new to Helium 10 and have signed up specifically to use ADS, before you do anything else, you must connect your Helium 10 account with your Amazon Seller Central account.
The complete steps to authorize both your general and PPC tokens are explained in the article "How Do I Connect My Helium 10 Account to My Professional Amazon Seller Account?"
If you have already authorized Helium 10 in general, but not for the PPC tool specifically, this brief tutorial shows you how to complete these additional steps.
1. Sign into Helium 10 and click on the drop-down menu in the top, right corner. Click on the Helium 10 ADS link.
2. The first time you open ADS, an introductory welcome page loads. You may want to read over the brief summary of what ADS does to help you manage your advertising campaigns. When you're ready, click on the blue Get Started button.
3. If you have previously authorized all your Amazon tokens, then ADS will load. Skip to step seven. If you have not authorized your PPC token, you'll get a screen asking you to grant Amazon Advertising access to Helium 10. To proceed, open your Amazon Seller Account in a separate browser window and sign in. Then come back to your Helium 10 window and click on the blue Profile Page button.
4. Clicking the blue Profile Page button will direct you to your Helium 10 account page. Scan down the page until you see the Helium 10 Connectors section. Check to make sure you have activated your Amazon MWS token. There will be a green check mark next to the markets for which you have authorized tokens for Helium 10. If none of the items has been activated, please follow these instructions. The last item in the Connectors section is the Amazon Advertising (PPC) authorization. Click on the adjacent green Grant Access button.
5. A window will appear from your Amazon Seller Central account prompting you to approve Helium 10's access to your PPC data.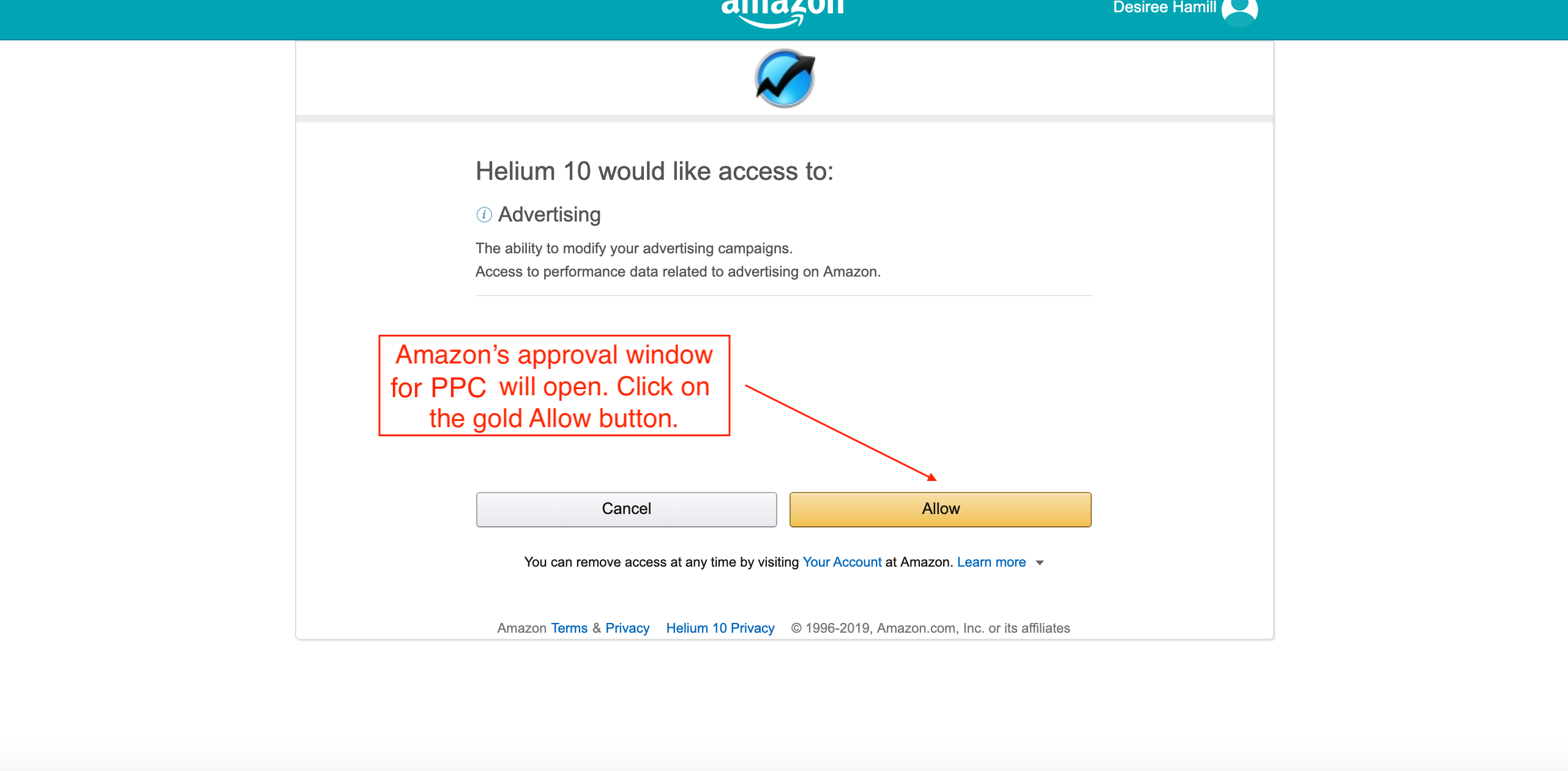 6. Go back to your Helium 10 account page and check to see if the authorization has processed.
7. Now you should be able to access ADS. Depending on the number of campaigns and products you have running in Amazon, it may take Helium 10 up to 24 hours to import all your data for you. Once the data has loaded, you will see the main ADS dashboard.