Some of Helium 10's most powerful tools help you manage and protect your Amazon seller business. In order to use these tools, you must grant Helium 10 access to your Amazon account data. Serious Seller tools like Alerts, Inventory Protector, Refund Genie, Profits, ADS and Follow-Up won't work until you authorize approval.
Granting access to Helium 10 is quick and easy. You are going to need your Amazon Seller Account number from Amazon, and the Helium 10 Developer ID number, located in your Helium 10 Account. This tutorial takes you step-by-step through connecting your Amazon.com account to Helium 10, but the steps are similar for all the markets.
1. Sign into both your Amazon Seller Central account and into Helium 10. Keeping both dashboards open in separate browser windows will help you copy and paste data quickly and accurately. On the Helium 10 dashboard, click on your name in the dropdown menu under your personal icon in the upper right corner.
2. Scan down your Helium 10 account page until you see the section titled Helium 10 Connectors. You'll be adding your seller token here.
3. In a second browser window, sign into your Amazon Seller Central account. Click on Seller Account Info. The link is located in the drop-down menu titled Settings in the top right corner.
Scan down and locate the section titled Business Information. Click on the linked text Merchant Token. If you do not have a Professional Seller account with Amazon, you will not be able to connect it to your Helium 10 account.
 4. When you click on Merchant Token, a new window will open with your Merchant Token listed in a gray box. Select and copy it. 
5. Switch back to the Helium 10 browser window. Click on the green Add Token button next to your chosen Amazon MWS region. Paste your Seller ID into the appropriate box.
6. Next, you need to get your Authorization token. Switch back to your Amazon Seller account. In the lower left corner, look for the link for User Permissions in the Account Management section. Click on it.
7. A new window opens where you can add Seller Central users. Under the Third party developer and apps, click on the Visit Manage Your Apps button.
8. A new window opens in Amazon's Appstore with a subheading Manage your apps. Click on the green Authorize new developer button. 
9. You've reached the point in the process in which you need to switch back to Helium 10 to get the Developer ID. 
10. Click on the browser window where you are signed into Helium 10. The Helium 10 Developer name and Developer ID are located under Helium 10 Connectors. Copy the Helium 10 Developer Account Number.
11. Return to your Amazon Seller Account window and type Helium 10 in the Developer's Name field, and paste the copied Developer ID into the Developer ID field. Click on Next.
12. On the next screen, click on the acceptance box to confirm your authorization.
13. The next window should show the approved access in Amazon. You'll want to check that Helium 10 has been notified. Toggle back to your Helium 10 account window.
14. On the Helium 10 dashboard, you should see confirmation of authorized access. Helium 10's Tools Profits, Alerts, Follow-Up, Inventory Protector and Refund Genie should immediately and automatically begin to work. If you are selling in another market, you will need to repeat the process for that region as well.
The last step is to approve access for PPC. Click on the OK button.
15. Click on the green Grant access button next to Amazon Advertising PPC.
16. When you click on the green Grant access button, Helium 10 links to Amazon requesting access to Advertising. Simply click on the gold Allow button.
17. All authorizations should now be in place. To confirm, you can return to your Helium 10 account page. Green check marks next to the appropriate Amazon MWS and Amazon Advertising rows verify that the proper approvals are in place so the tools can work for you.
18. Finally, periodically, Amazon will ask you to renew Helium 10's access. Simply sign into your Amazon Seller Central account, go to Manage your apps, and click on the Renew button in the Helium 10 row.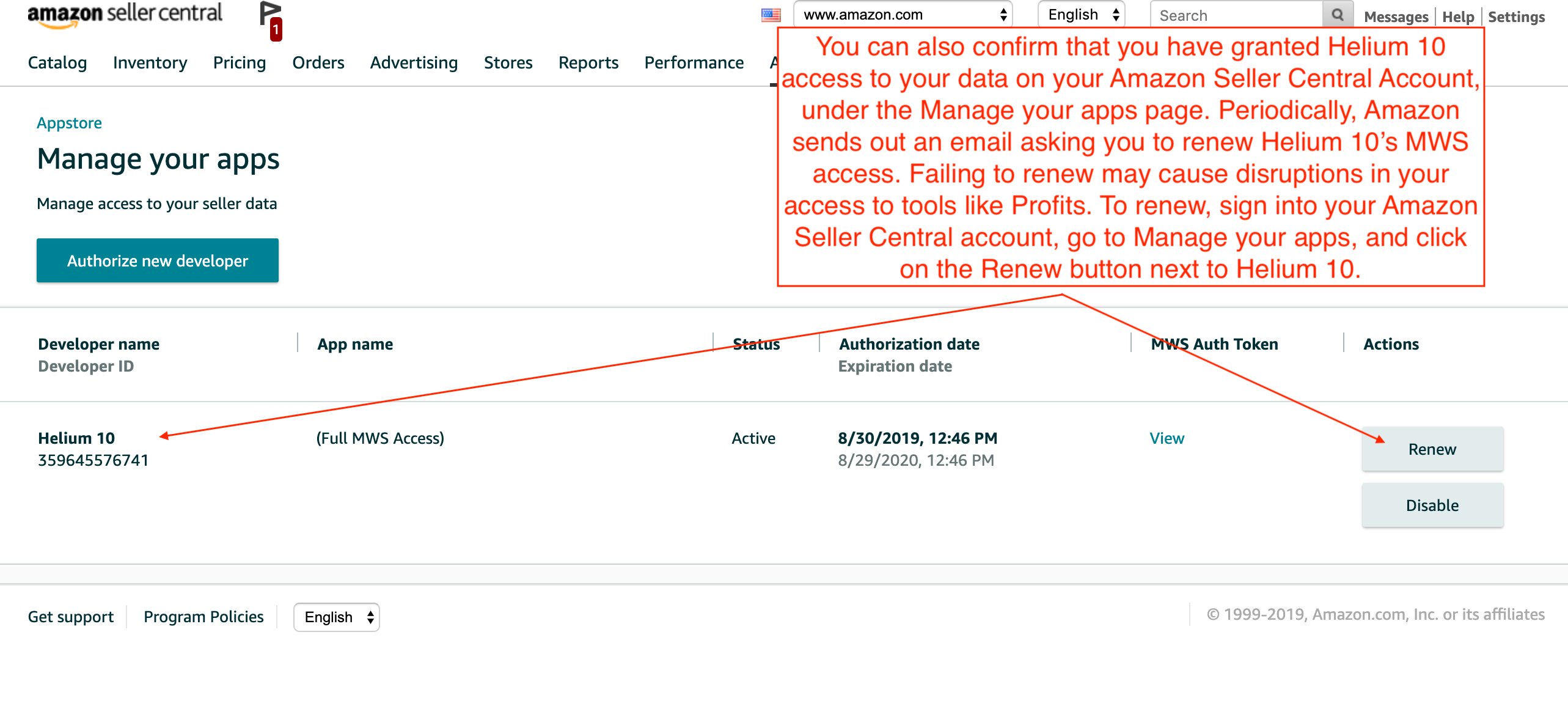 Next, authorize Helium 10's Follow-Up tool.
If you'd want to also watch how to connect your Helium 10 account to your Amazon Seller account, check out our PRO Training video.