The Competitors page on your Insights Dashboard is a great place to monitor and analyze your competitor's product listings. A huge benefit of the competitor's page is that it is very customizable, so you can adjust your settings to your liking and get notified of competitor updates that you consider important.
This page covers the following content:
How to Access the Competitors Tab
How to Add Competitors
Competitors Insights Overview
Competitors Table Overview
Table Customization
View Insights History
My Linked Products
Exporting Your Data
How to Access the Competitors Tab
To access the Competitors Tab, expand the left-hand menu from your Insights Dashboard and select Competitors.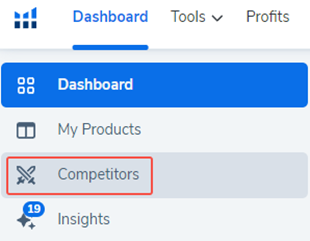 How to Add Competitors
To add competitors to your Insights Dashboard, select the + Add Competitors button at the top-right of your Competitors Table.

Choose between Current Competitor or Potential Competitor.
If you choose Current Competitor, you will pick a Parent ASIN to add the competitor to. You can add up to 5 competitors per Parent ASIN.
If you choose Potential Competitor, you will be prompted to enter the Competitor ASINs you want to track. You can add as many ASINs as you want to track.
Competitors Insights Overview

At the top of the Competitors tab, you will see your competitor's insights broken up into Pricing, Listing, and Performance insights.
Pricing – notifies you of competitor updates in price or coupons.
Listing – notifies you of competitor changes in title, main image, category, and subcategory.
Performance – notifies you of competitor changes in BSR (best seller ranking), review count, and sales.
To adjust the parameters for your competitor insight notifications, click on the gear icon

in the section you're interested in modifying.
Competitors Table Overview
The Competitors Table will display key metrics for each of your selected competitors. It's a great way to review updates to your competitors at a glance. The cells are color-coded to highlight recent changes in metrics. Hovering over a color-highlighted cell within the table will prompt a tooltip with an explanation of the change that occurred.
Note: The data from this table is pulled from a variety of Helium 10 tools. Some tools' data will refresh at different intervals than others.
For the Insights column, sometimes additional insights are hidden from view. Click on the + to expand the insights for that product.

Selecting products in the table will cause the following options to appear:
Delete Competitors: You can delete selected competitors.
Run Cerebro: You can run the selected competitors in Cerebro.
Compare in Listing Analyzer: You can compare selected competitors in Listing Analyzer.
Run Black Box: You can run selected competitors in Black Box.

Table Customization
To customize your table, click on the gear icon

labeled Customize at the top-right of the table. From this menu, you can choose the product image size you prefer, and you can select/deselect which columns you would like displayed.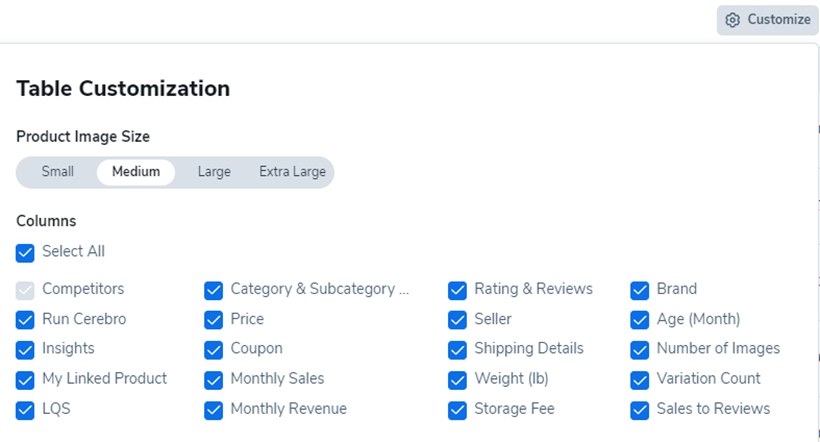 View Insights History
Hovering over metrics in the competitor's table will often display additional data. If you select View Insights History, the table will expand to display the Insights History for this product. You can filter the event type to display the metrics you are interested in. The table will show the event type, the old value, and the new value.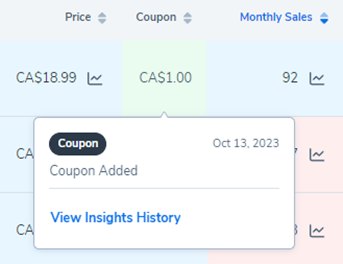 My Linked Products
My Linked Products is a new column that also has a filter. My Linked Products allows you to view your Parent ASINs. You can use the filter to select which competitor Parent ASIN you want to see. This is a great way to view competitors for specific products.

Exporting your data
To export the data from your competitor's table, click on the export button at the top-right of the table and then choose your preferred format.